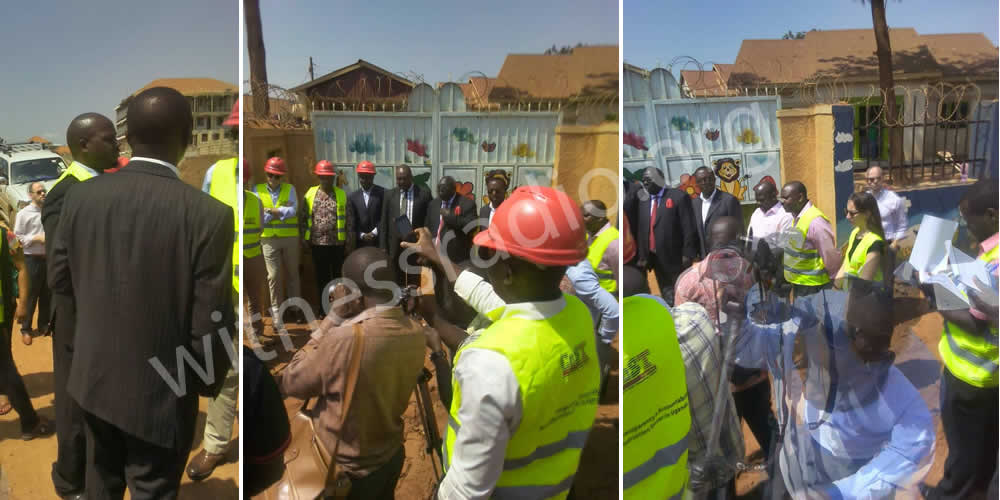 By witnessradio.orgTeam
Construction Sector Transparency Initiative (COST) Uganda Chapter has held its first ever community meeting in Wakiso about the construction of the Namasuba-Ndejje Kitiko road.
The meeting that brought together residents, municipal leaders, civil society and the central government was meant to seek opinions from the members of the public on the ongoing road construction.The road is the first project to be monitored by COST Uganda in Wakiso district.
Now leading the team that inspected the works, Wakiso district engineer, Sam Mwesigwa advised government to stop compensating people who violate construction standards and build in road reserves because it delays construction works.
Mwesigwa said that government loses a lot of money in compensation even in cases where residents defy the law.
"A number of structures are going to be demolished but this should have been avoided if people followed the law".Mwesigwa said.
He however said that the works was going according to plan and that the residents had been supportive all the way.
"Many residents volunteered their land without any single coin in compensation, all they wanted was the road completed, this helped a lot to deal away with bureaucracies related to compensation and we are on course". He emphasized.
However while expressing their views, residents complained about the narrowness of the road and delays in the completion of works.
One of the residents only identified as Omulongo Kato called on authorities to stop forthwith vendors who have already flocked the walkways of the road. "Who is responsible for this road?, people have created markets on the roadside , what are you going to do for those in the road reserve?" Kato inquired.
In response, the district Engineer Sam Mwesigwa clarified that the road had met the 7 meters standard, walkways and drainage system was provided contrary to many roads that have been constructed in Kampala and the country atlarge.
Speaking at the same community meeting, area MP, Ssempala Kigozi Ssajjalyabeene promised to write to Uganda National Roads authority to stop people from constructing in road reserves.
John Hawkins from COST international said he was impressed by the response from the residents in form of the high turn up and this confirmed that there is information flow from top to bottom.
He encouraged residents to always open up about the project for better services. "This road will enormously impact on your lives economically and ensure better lives, we will continue working with you and your district to ensure you have good roads". Hawkins emphasized.
Construction sector Transparency initiative [ COST] Uganda is a national chapter of COST international with a tripartite partnership between government ,and private sector CSOs.
The executive director of Africa Freedom information center, that hosts COST Uganda Chapter, Gilbert Sendugwa said that the major role of the chapter is to ensure projects under the construction sector are in line with both international and national standards.
He says their role is to ensure value for money, accountability, confidence in leadership and avoid collision.