Oxfam report 2011: Court orders were too weak to stop an investor in Mubende and Kiboga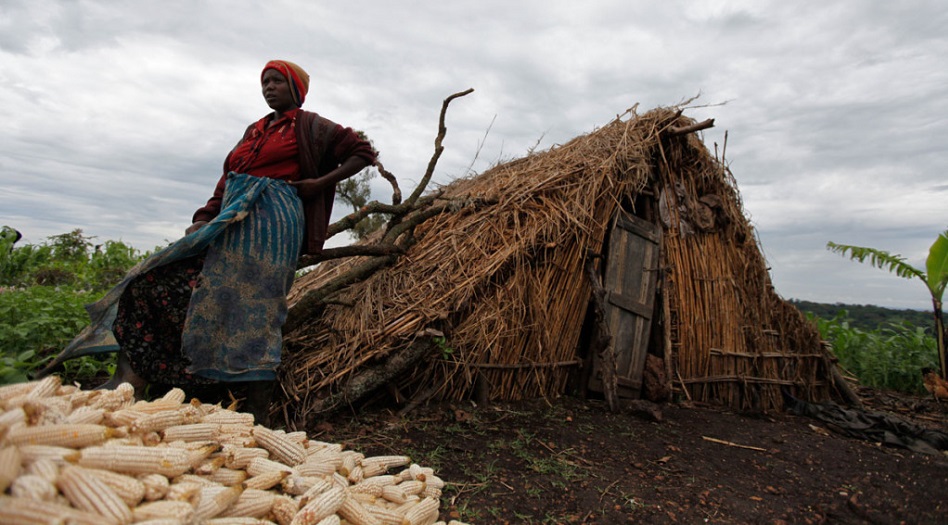 By witnessradio.org Team, a Third Series
The story of neighbouring Mubende just months later echoes the events of the 2008– 2010 Kiboga evictions. In both cases, the local people believed they had legal claims to the land and attempted to get their case heard in court. In both instances, the High Court issued an interim order restraining the company from evicting the residents. Promises of compensation, made to community leaders in both Mubende and Kiboga, seem to have come to nought. Thousands of people have been left landless, living a hand-to-mouth existence, unable to afford to educate their children or to access adequate healthcare.
Many evictees describe feeling dehumanized by the experience. 'I lost land. I'm landless. Land was my life. I have no rights. It's like I'm not a human being,' said Fred Bahemuka, a father of eight from Mubende.
Augustin Allen, 52, is vice-chair of Kyamukasa council. He has nine children aged between four and 23. 'My father fought in Egypt for the British during the war,' he told Oxfam. 'I heard that in Mubende there was land allocated for Second World War veterans and their families.' In 1997, he met the leaders of the veterans. 'I submitted my dad's service papers and was allocated 31 acres'. He grew bananas, coffee, beans, and maize, selling most of it to traders. He was able to pay for schooling for all of his children.
Attempts to clear the land of its inhabitants began in early 2009 with press reports of armed groups beating people in Namwasa forest, leading over 10,000 residents to petition Lands Minister, Omara Atubo, in July 2009, to stop the evictions. Mr Atubo said, 'As a ministry in charge of land, we are saddened by what has happened to you. It is important to respect your rights irrespective of whether you occupy the land legally or not. There is no need for your colleagues to disappear, your property to be stolen or crops to be destroyed.'
'There were no consultations before the evictions,' Mr Allen said. Despite the ongoing legal claims, on 11 December 2009 three government ministers and the Resident District Commissioner visited the area and told people to leave by February. Police, backed by army troops, were deployed in December. Oxfam heard how the police dismantled the local primary school – named Bright Future – and set fire to the school chairs and desks.
Villagers told Oxfam that, in January 2010, the police arrested 18 community leaders. When people met to organize themselves, police broke up the meeting with teargas, according to villagers. 'They told us we were illegally encroaching,' Mr Allen said. During the evictions in February, 'they cut down our crops, burnt and demolished our houses,' Mr Allen added.
'We were beaten by soldiers. They beat my husband and put him in jail,' said Naiki Apanabang, who claims that her land was given in recognition of her grandfather having fought in the British army in Burma in the Second World War. 'The eviction was very violent. The people behind it were the Resident District Commissioner, the police, casual labourers of the New Forests Company, the army, and a private security company called Askar.'
Ms Apanabang has eight children. She now lives in a rented house for 15,000 shillings ($5.50) a month and says even finding this money is now a problem. She earns some money from casual work when she can find it. She cannot afford school fees. Before being evicted, she said her family ate well from a variety of crops they grew. 'Now we rely on posho [a maize porridge staple] and the days I fail to get posho, we sleep on empty stomachs,' she said. 'One of the things that most touches my life now is that I have forgotten the feeling of eating well.'
'I remember I wrote the details in my notebook,' she said. 'The officials gave us a deadline to leave between the 12th and 28th of February 2010. I chose to leave on the 12th. We saw them burning down people's houses and cutting down people's plantations. That convinced me to collect my children and leave. It was too painful. And what I feared is what has happened – we have nothing to eat. My children are not going to school and we don't know what the future holds.'
Mr Allen says: 'One of the things that pained me most was that my land was the source of income for school fees for my children. I am not an educated person. It was my plan to raise money to educate my children so that when I'm gone they can take care of other family members. But now I can only afford to send one of my six children to school. Now they are held back, they are nobody. That is the painful thing.'
'We are no longer interested in going back to the land we had before. We only want to have money to buy some new land somewhere else. Let the past settle,' Mr Allen said. 'I only pray to God that a miracle comes now, to get land somewhere else. I think that is when we shall have back the peace and happiness in the family that we have all lost.'
Maria Peimong is a 66-year old grandmother who was evicted from Kyato village in Mubende, where she told Oxfam she had lived for over 15 years. She used to farm maize, bananas, avocado, and jackfruit; she had eight cows and 15 goats. Now she is reduced to a precarious existence: 'I am an old woman. Now I just work as a casual labourer in this village where I found refuge. At my age how can I live like that? … It is so frightening.' She is terrified of falling sick as 'that means going for a day without a meal, because you cannot work.
To be continued…
…
Why UN Food systems summit is irrelevant to Uganda's smallholder farmers: A case of capitalism pushing the poor away from family land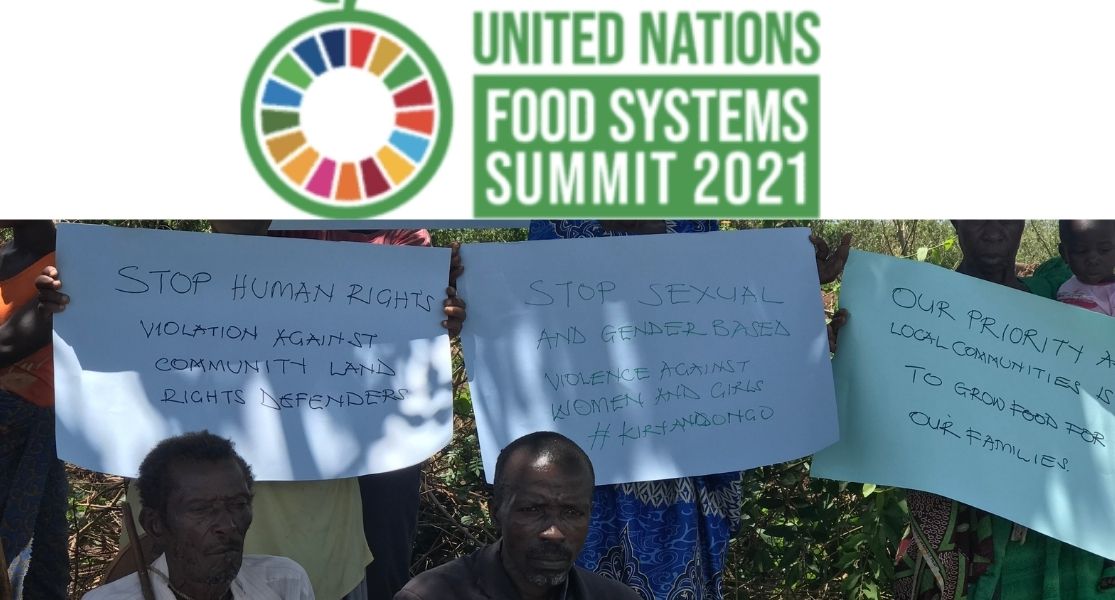 Some of the community members affected by land grabbing in Kiryandongo District
By witnessradio.org team.
As the United Nations, is striving to end hunger, achieve food security through sustainable agriculture what they termed as one of the 17 sustainable development goals by 2030, Uganda still grapples with mass forced evictions being aided by International development financiers being hosted and protected by big nations.
In Uganda, the 'development financing' has exacerbated poverty, hunger among the local populations, threatened food security, and forced inhabitants to migrate to urbanized cities or working as laborers on large plantation farms established formerly on their land as the only means of looking for survival.
Ever since the mandate to set up the Food Systems Summit was taken over from the Food and Agriculture Organisation (FAO) by the UN secretary-general's office in close partnership with the World Economic Forum, a private sector organization fronting corporate interests, the summit lost its relevance as far as smallholder farmers concept in Uganda is concerned.
The governance of the summit is under capture by "experts" known to be staunch defenders of industrial agriculture, and wealthy nations, which host many of the large multinational corporations and International Development Financiers, to drive their agenda.
In a bid to translate these aspirations into tangible results, the United Nations' three-day pre-summit in Rome, which ended on the 28th day of July 2021…. in a lead up to the UN Food Systems Summit in September in New York City, US, made no mention of peasant agroecology, or indigenous ecological knowledge and it's feared by smallholder farmers to be fronting corporates' interests.
In a survey conducted by Witness Radio-Uganda on development projects (agribusiness, afforestation, carbon offset projects, mining, and infrastructure development) being financed by members of the World Economic Forum for the last ten years, both COVID-19 lock-downs inclusive, estimate that 1, 257,200 (one million two hundred, fifty-seven thousand and two hundred peasant families have been forcefully evicted or threatened with eviction from more than 5 million Ha.
Approximately 98.2% of the grabbed land or on the verge of being grabbed was agricultural land being used for subsistence farming by local peasants.
As we write this story, Nalumunye Betty, not real name, a small-holder farmer in Kawaala who grows yams to feed her family fears that an eviction facilitated by World-Bank financing of the expansion and construction of Lubigi Channel under the Kampala Institutional and Infrastructure Development Project (KIIDP-2) Project will take away her cheap and sustainable source of food.
She is not alone, there are many other smallholder farmers across the country including Kiryandongo district, 122 Km away from Kampala facing a related quandary. They are battling multi-national companies, including, Agilis Partners Ltd through its Asili Farms that received USD 1,200,000 from the Netherlands-based Common Fund for Commodities (CFC), a basket fund that gets part of its money from the European Union. Agilis Partners Limited is using the development finances to forcefully evict thousands of peasants off their land.
"Every eviction has a ripple effect and this country will have to pay dearly for it soon", Mrs. Joan Bulyelari, one of the legal officers with Witness Radio – Uganda, noted with great concern.
"It is a double-edged sword. It takes away a live hood and leaves communities hungry. It breeds domestic violence, breaks families, forces children out of school. Just look at what is happening in Kiryandongo. Employees of multi-national companies are raping mothers and defiling children to defeat their spirited efforts to reclaim their land from multi-nationals", she added.
By and large, agriculture plays a vital role in the Ugandan economy, and most of the persons evicted are smallholder farmers whose land is being targeted constitute 68% (sixty-eight percent) of all working Ugandans are employed by agriculture.
Small-holder farmers account for 89% (eighty-nine percent) of all land users in Uganda. They contribute up to 80% (eighty percent) of the annual total agricultural output, this includes food crops.
Conversely, this contribution seems to have been overlooked by key stakeholders' aggressive advocacy, and blind funding by international financial institutions of large-scale mechanized agriculture without prioritizing the land rights of smallholder farmers, which is an affront to food security that has been guaranteed by small-holder farmers through their 80% (eighty-percent) contribution to the annual total agriculture.
According to the Country Director, Witness Radio-Uganda, Mr. Wokulira Geoffrey Ssebaggala, "It is time we rethink, and jealously protect the smallholder farmers' contribution to food sovereignty, but that debate will only make sense if key stakeholders; governments, financial institutions, and international bodies take up the responsibility to finance community-led projects that cater for the protection  of land rights of smallholder farmers."
"They should not just throw money at large-scale agricultural and development projects, especially, if they will involve the forceful land acquisition. These development finances are aiding instability in Uganda and worsening food insecurity yet it should alleviate such issues. This is akin to throwing pearls to pigs. International financiers, among other solutions, should set independent supervisory and audit units to ensure that there is prior, adequate, fair, and prompt compensation before any evictions ", he advised.
In Rome, the priorities of the UN Food Systems were emphasized on paper as "hunger and nutrition, climate change and inclusion and equity but such can only be achieved if the summit remains an independent space for all to find lasting solutions to food security.
Earlier this month, one of Uganda's dailies, The Daily Monitor, reported that a total of 36 civil society organizations (CSOs) in Uganda and across Africa under the Alliance for Food Sovereignty in Africa (AFSA) had ruled out their participation in the United Nations Food Systems Summit (UNFSS) scheduled for September 2021 in New York, USA.
UNFSS is accused of excluding the critical views of indigenous farmers in defining suitable food systems, "We are deeply concerned that the current rushed, corporate-controlled, unaccountable, and opaque process for this summit will not lead to the transformation we envision of sustainable and healthy food systems.", its statement read in part.
Globally, the International Peasants Movement, while christening the UNFSS as a 'Scientific Group' also views it as a composition of "corporate-sponsored actors who legitimize corporate-owned knowledge and technology systems, and hold peasant agroecological practices in contempt."
Witness Radio Uganda will not take part in the Food Systems Summit, later in September 2021 in New York, instead joins other actors to reaffirm the need of the UN and other stakeholders to rethink approaches that have left smallholder farmers landless and threatening food security.
Breaking Alert! A community fighting forced eviction during COVID-19 lockdown, Witness Radio-Uganda together with Accountability Counsel file a complaint before the World Bank's Inspection Panel…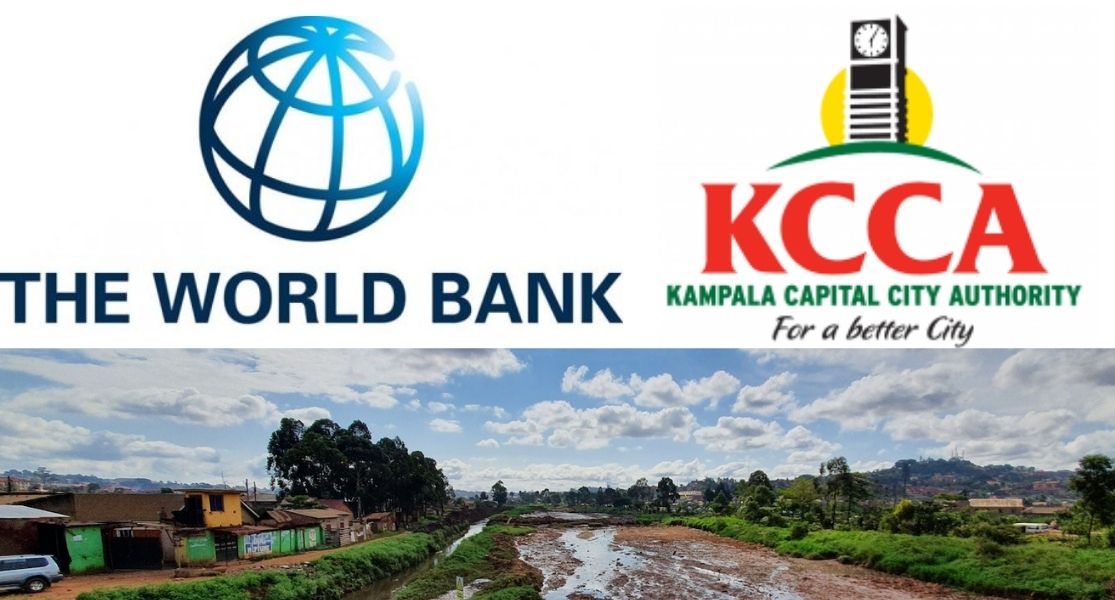 In the midst of the COVID-19 pandemic, the Kawaala community of Kampala, Uganda, is facing eviction to pave the way for the construction of the World Bank-funded Lubigi drainage channel. Accompanied by armed soldiers, representatives of the Kampala Capital City Authority (KCCA) turned up at shocked residents' homes, placing a red "X" on many structures and explaining that they were earmarked for demolition – the first those families had heard of the KCCA's plan to take their homes and land.
The construction of the Lubigi drainage channel will displace more than 100 families from their shelter and farmlands. These farms enable community members to feed their families and sell other produce, earning income that pays for their children to attend school. For some of the community members, family grave sites will be lost, as well as ancestral land intended for their children and grandchildren. Yet neither the KCCA nor the World Bank provided adequate information to the community about project plans, nor did they meaningfully consult them on the extent of displacement and any plans for compensation and resettlement, as required by World Bank policies, before issuing eviction notices.
After its glaring mismanagement of this project was highlighted by the Kawaala community and its local partners, including Witness Radio, KCCA and its agents have begun to push affected community members through a rushed and problematic resettlement process, prioritizing project timelines over the livelihoods and wellbeing of affected people and the accuracy and completeness of the process. Out of desperation, many community members have signed documents they do not understand.
The Kawaala community raised its concerns with the World Bank Uganda country office and asked them to closely monitor the project, but the World Bank refused – using restrictions associated with the COVID-19 pandemic as an excuse for their inaction – seemingly indifferent to the risks and impacts of forcibly displacing a vulnerable community during that same pandemic.
Given these failures, in the face of the severe threats to their wellbeing and livelihoods, the Kawaala community has filed a complaint about the project to the World Bank's Inspection Panel seeking protection from the forced and unfair eviction processes, as well as meaningful consultation and participation in the design of a comprehensive and fair resettlement solution.
THE STORY: 
An attempted forced eviction, during a pandemic
In December 2020, in the midst of the COVID-19 pandemic, communities living in Kawaala Zone II, in Kasubi Parish, Rubaga Division, Kampala were awoken in the early morning hours to find excavators and armed guards destroying their property, without any prior consultation or plan for compensation and resettlement. The previous day, they had received eviction notices requiring them to vacate their lands within 28 days. The eviction notice was issued by the Kampala Capital City Authority (KCCA). The KCCA, with support from the World Bank, is constructing the Lubigi drainage channel as part of a broader road and infrastructure project.
The Kawaala community has lived, built their homes, and earned their livelihoods through farming and livestock-keeping in the area since the 1960s. With a population of approximately 300, the community is composed mostly of elderly men and women. Given the high number of elderly persons in the community, most are illiterate. Their farms enable community members to feed their families and sell other produce, earning income that pays for their children to attend school.
On December 3, 2020, the Kawaala communities were shocked to find KCCA representatives in their village, accompanied by armed guards, distributing eviction notices and informing residents that they had 28 days to vacate their homes. KCCA representatives approached residents' homes, placing a red "X" on many structures and explaining that they were earmarked for demolition.
The eviction notices included a claim that violations of health and safety code were the reason for the evictions. However, through active investigations, the community was able to confirm that the area was being cleared to make way for the expansion of the Lubigi drainage channel, part of the World Bank-funded Second Kampala Institutional and Infrastructure Development Project (KIIDP-2).
Over the following two days, in contravention of the 28-day notice period, the KCCA began attempting to evict residents. They brought excavators and destroyed some homes and gardens before community members were able to contact local leaders, who successfully intervened and persuaded the KCCA to halt the eviction process.
The Kawaala community, with the support of Witness Radio, was then able to challenge the eviction by filing a case at the High Court in Kampala. This prompted the KCCA to halt the eviction process. However, the court case remains undecided and the eviction notice still has not been withdrawn, leaving the community at risk of sudden eviction.
The World Bank's involvement
The World Bank's KIIDP-2 project funds the construction and rehabilitation of roads and associated infrastructure throughout Kampala via a USD 175 million loan. This project includes, among other works, the expansion and construction of the Lubigi Primary Drainage Channel, which forms part of the eight primary channels in Kampala and is 2.5 kilometers long. The project also involves institutional and systems development support to the KCCA, including for engineering and technical services.
KIIDP-2 follows the Kampala Institutional and Infrastructure Development Project (KIIDP-1), which had similar objectives. Around 2014, KIIDP-1 led to the construction of a channel diversion that ran through the land of many local residents and cut others off from easy access to schools and basic services. Residents report that this diversion was described to them as "temporary," and they were therefore not offered resettlement compensation. Some received a small sum for temporary disturbance from project works, while other families affected by the diversion did not receive even this much and were thrown into a state of desperation or even homelessness following the original channel diversion. KIIDP-2 will expand on this diversion, widening it significantly and requiring forced eviction of residents across an area 70 meters wide and 2.5 km long. Many residents report that they never realized that the diversion would be made permanent until the forced eviction process began last December.
A general project fact sheet by the KCCA claims that all affected properties were registered years ago, and states that no new developments will be valued or compensated, but residents dispute this claim. The KCCA has since walked back from this assertion and begun a rushed and problematic resettlement process, based on a contested and non-consultative surveying process that residents believe does not accurately reflect their land rights.
The devastating impacts of this project
The Lubigi drainage channel project will result in most affected families losing their homes and others losing their farmland, leaving very little for them to sustain themselves. In addition to that displacement, the construction of the drainage channel poses a series of other environmental and social concerns:
Loss and disruption of family remains: Some community members risk losing the remains of their loved ones that are buried in the land set aside for the project.
Food insecurity: This risk comes as a result of the destruction of crops, including those crops already destroyed in the attempted forced eviction in December 2020.
Loss of education: In case of any eviction or relocation without adequate compensation, community members fear that the children will be forced to drop out of school since the houses built and the crops grown on the land are their sole sources of income to cover their fees and tuition. Community members fear that this in turn will lead to increased marriage rates for young girls with limited options.
Safety risks: Following the construction of the channel to date, the local area has become unsafe for children to play outside due to a constant risk of drowning, which is especially heightened during rainy periods. There have been reported cases of people drowning.
Sexual exploitation: Some women in Kawaala have been compelled to engage in transactional sexual relationships to ensure that their children's basic needs are met ever since the KCCA coerced them into abandoning their gardens to make way for the construction of the channel diversion under KIIDP-1. Residents fear that this pattern will be intensified if community members are not provided with fair and complete compensation to address the full extent of economic impacts from another forced resettlement.
Cumulative impacts of multiple infrastructure projects: The Kampala Northern Bypass Highway, funded by the European Union and the Government of Uganda, as well as the Lubigi Sewage Treatment Plant, funded by the European Union and the German Government, were also constructed in the community's immediate vicinity in recent years, surrounding the Kawaala community on multiple sides by government-sponsored and internationally funded infrastructure projects.
Flooding: Far from improving the flooding problems that plague the area, community members have observed that flooding has actually increased in Kawaala Zone II, since the channel diversion and other multiple infrastructure projects began.
Other social impacts: Residents expect that eviction without adequate compensation will likely lead to a host of other foreseeable social issues, such as increased rates of domestic violence, child abandonment, or other family rifts.
Because of the totality of these impacts, the community deems it best to be compensated and resettled elsewhere in order to live with dignity.
Raising concerns with the World Bank Uganda country office
The KIIDP-2 project is proceeding in blatant contravention of a host of World Bank commitments designed to ensure meaningful consultation of communities and to avoid or mitigate environmental and social impacts, including resettlement. Although the KCCA has walked back from its initial assertions denying residents' rights to compensation, in recent months it has undertaken a forced, rushed, and non-transparent survey process that some residents were unable to participate in. Residents are deeply skeptical that any compensation determined based on this incomplete survey will provide them with fair and accurate compensation assessments.
On March 4, 2021, community representatives raised their concerns regarding the project and the potential harm in a meeting with KCCA officials and the World Bank Uganda country office team. The World Bank team directed that the KCCA intensify citizen and stakeholder engagement and provide adequate project information to the community in Luganda rather than English. Further, the KCCA was asked to carry out proper identification of the project-affected persons and, through a consultative process, determine the amount and type of compensation needed. Lastly, the World Bank team directed that the KCCA re-constitutes a Grievance Redress Committee composed of representatives of all the stakeholders in the project.
The World Bank, however, refused the community's demand that Bank staff visit the project site and engage in follow-up meetings with the community. The community feared that, without this supervision, the KCCA would continue to abuse the rights of affected community members.
Those fears have been realized. The KCCA has not followed the directions of the World Bank and is continuing to rely on its forced survey process, as well as failing to meaningfully consult community members on the details of any compensation.
Inspection Panel complaint
Through Witness Radio, community representatives reached out to Accountability Counsel to support the filing of a complaint. Because of the non-responsiveness of the KCCA and the World Bank to their concerns, the community wanted to escalate those concerns to the World Bank's independent accountability mechanism, the Inspection Panel. After several consultations with different groups in the community to understand their concerns and goals of the complaint, Witness Radio and community representatives filed a complaint on June 17, 2021 with the following demands (in summary):
That the project should be investigated and evictions halted until affected people are properly informed about the project and consulted about its impacts and necessary mitigation measures, and are consulted on the formation of a resettlement action plan that addresses the concerns of local residents;
That the KCCA formally withdraws the eviction notice issued under the Public Health Act Cap. 281 against the residents and other similarly affected persons;
That the community be resettled and fairly compensated, given that the land is now uninhabitable;
That the compensation processes be aimed at ensuring that the entire family is included and able to share in the benefits, rather than being provided to the head of household only, which can contribute to intra-family and social conflicts and gender disparities. For example, the KCCA should encourage both spouses to sign compensation documents and attend related meetings, and it should provide compensation funds into jointly-owned bank accounts; and
That the affected people should be provided with resettlement assistance, including scholarships for their children at least until families have an opportunity to find an alternative livelihood. Any resettlement assistance should include social support programs such as stress management, anger management, and domestic violence sensitization programming to reduce common social problems that can accompany physical displacement.
The complaint is currently awaiting registration and an assessment of eligibility by the Inspection Panel.
Case Partners
Accountability Counsel is partnering on this case with Witness Radio, an advocacy and media organization focused on issues of rights in development in Uganda, cutting across sectors (including agribusiness, environment, mining, and extraction). They monitor, document, and report human rights violations using traditional and new media formats and, where possible or necessary, support communities to seek justice through judicial and non-judicial mechanisms.
THE CASE: 
Jun 2021

Community representatives filed a complaint with the World Bank's independent accountability mechanism, the Inspection Panel, on June 17.

Mar 2021

Community representatives met with the World Bank Uganda country office and the Kampala Capital City Authority (KCCA).

Dec 2020

In spite of the 28-day notice period communicated on the previous day, on December 4 and 5, the KCCA began attempting to evict residents. They brought excavators and destroyed some homes and crops before community members were able to contact local leaders, who successfully intervened and persuaded the KCCA to halt the eviction process. Shortly after, the Kawaala community, with the support of Witness Radio, was then able to challenge the eviction by filing a case at the High Court in Kampala. This prompted the KCCA to halt the eviction process. However, the eviction notice still has not been withdrawn.

Dec 2020

On December 3, the KCCA issued a notice to residents of Kawaala Zone II to vacate their land within 28 days.

IMPACT:

Through their local partner, Witness Radio, community representatives reached out to Accountability Counsel because their concerns were not being heard by the World Bank or its client, the Kampala Capital City Authority. As is too often the case, as soon as Accountability Counsel became involved, the World Bank became more responsive – although their actions continue to be woefully inadequate to prevent harm and comply with their own environmental and social safeguards.

Given those failures on the part of the World Bank and its client, community members decided to elevate their concerns to the World Bank's Inspection Panel. In April 2021, Accountability Counsel's Africa Communities Associate, Robi Chacha Mosenda, traveled to Kampala to document the community's concerns and goals in preparation for complaint filing.

On June 17, 2021, Witness Radio filed an Inspection Panel complaint on behalf of the Kawaala Zone II community, seeking protection from the forced and unfair eviction processes, as well as meaningful consultation and participation in the design of a comprehensive and fair resettlement solution.

In close partnership with Witness Radio, we will continue to support the Kawaala Zone II community to prepare for, understand, and navigate through each stage of the Inspection Panel's process, demanding accountability and remedy from the World Bank for its oversight and lack of due diligence that has harmed these communities.

CASE MEDIA: 

Photos

Family burial sites have experienced regular flooding ever since the initial channel diversion directed water through residents' properties. These burial sites now in the path of the planned channel expansion (Credit Witness Radio).

This channel diversion constructed around 2014 will be widened to 70 meters, requiring extensive evictions. (Credit: Witness Radio).

A makeshift bridge connects Kawaala residents with schools and shops across the channel but creates a safety hazards, especially during frequent flood events.

The channel diversion constructed in 2014 has led to increased flooding and safety hazards, including at least one drowning due to inadequate walkways around the channel. (Credit Witness Radio)

A community kickboxing academy marked for demolition by KCCA.

A homeowner hesitates to finish construction his home, as it is marked for demolition by the KCCA.

Original Source: accountabilitycounsel.org
Court asked to block gov't from paying UGX 647 billion loan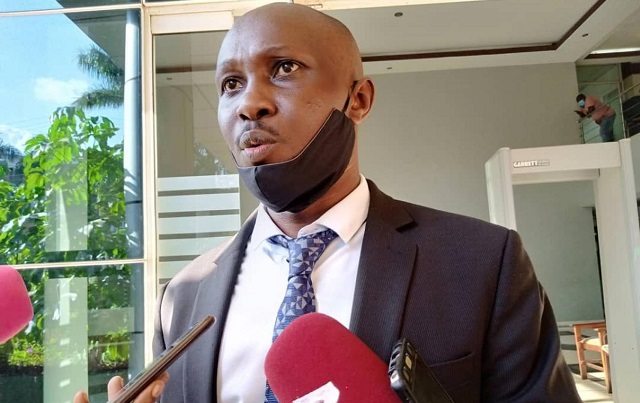 The applicant Brian Kasaija at the High Court in Kampala.
Kampala, Uganda. A concerned citizen Brian Kasaija has petitioned the High Court seeking an order compelling the government not to repay 175 Million Dollars obtained from the World Bank eight years ago.
According to Kasaija, the loan which is equivalent to 647.5 Billion Shillings was obtained illegally by the government to fund the Second Kampala Institutional and Infrastructure Development Programme Phase II because Parliament passed a resolution to borrow it without the necessary quorum way back in 2014.
The 2005 Parliamentary Rules of Procedure require one-third of all Members of Parliament entitled to vote and required at a time when Parliament is voting on any question.
But the evidence before the court shows that the Kampala Capital City Authority-KCCA which has been sued alongside the government sent a loan request to the Cabinet without a lawfully constituted authority governing body as required under the law. In the aftermath, the loan was approved and further forwarded to parliament by the then State Minister for Finance, Planning and Economic Development Aston Kajara on July 9th, 2014 for approval.
As a result, the evidence shows that Parliament on December 19th, 2014 chaired by the then Deputy Speaker of Parliament Jacob Oulanyah allegedly passed a resolution to authorize the government to borrow the loan from the International Development Association of the World Bank Group without the requisite quorum of two-thirds of the MPs.
According to the hansard that has been attached as evidence to the case, 77 Members of Parliament which is one-third of 229 MPs were supposed to vote on the matter, but only 63 members voted.
The records further indicate that the loan was to be paid for 40 years effective 2024. But the petitioner states that this continuously threatens the right to property and all Ugandans must pay it through legitimate and lawful payment of direct and indirect taxes which is their liquid asset.
Further, Kasaija also states that the actions and omissions amounted to an infringement and violation of the right to good governance.
"Absence of requisite quorum to enable the vote on the resolution authorizing government of the Republic of Uganda to borrow, made and rendered the loan resolution not only null and void but also non-binding to the humbly humbled applicant and the greatly humbled people of the Republic of Uganda as by law established hence a violation, infringement and threat to the rights nobly enumerated afore", reads the suit in part.
Kasaija now wants the court to declare that the loan was illegally passed by Parliament and an advisory opinion is issued to the government to institute an Independent Political Standards Authority -IPSA to oversee the conduct of Parliament and members with a view of safeguarding and promoting good governance in a wider public interest among other orders.
Asked why he has opted to petition court two days after Oulanyah being elected as the Speaker of Parliament to replace Rebecca Kadaga, Kasaija said that his case is not filed in bad faith because matters of holding people accountable have no expiry date.
In 2015, another concerned citizen Moses Muhumuza filed a relatively similar case before the Constitutional Court and the matter is pending determination.
Uganda's debt at the moment currently stands at more than 40 trillion shillings meaning that each Ugandan would have to pay 1.5 million shillings if the debt was to be cleared at once.
Original Source: independent.co.ug