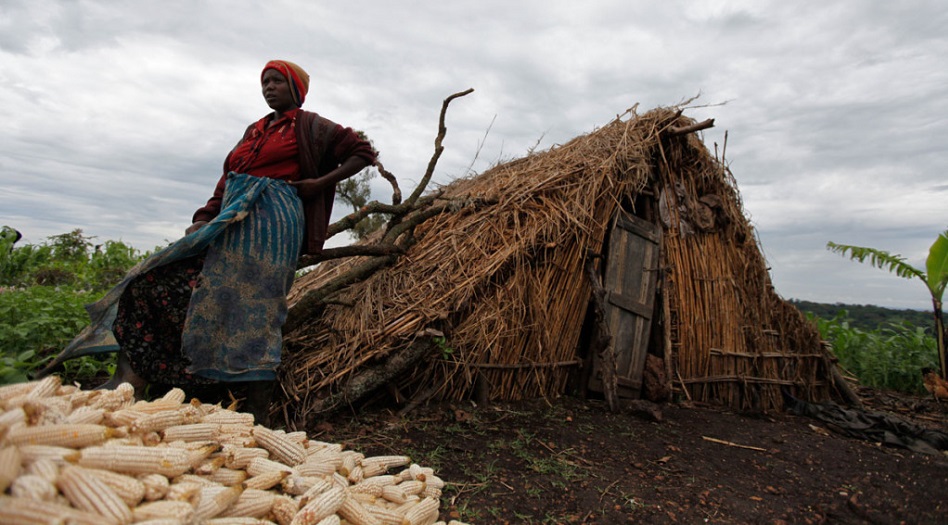 By witnessradio.org Team, a Third Series
The story of neighbouring Mubende just months later echoes the events of the 2008– 2010 Kiboga evictions. In both cases, the local people believed they had legal claims to the land and attempted to get their case heard in court. In both instances, the High Court issued an interim order restraining the company from evicting the residents. Promises of compensation, made to community leaders in both Mubende and Kiboga, seem to have come to nought. Thousands of people have been left landless, living a hand-to-mouth existence, unable to afford to educate their children or to access adequate healthcare.
Many evictees describe feeling dehumanized by the experience. 'I lost land. I'm landless. Land was my life. I have no rights. It's like I'm not a human being,' said Fred Bahemuka, a father of eight from Mubende.
Augustin Allen, 52, is vice-chair of Kyamukasa council. He has nine children aged between four and 23. 'My father fought in Egypt for the British during the war,' he told Oxfam. 'I heard that in Mubende there was land allocated for Second World War veterans and their families.' In 1997, he met the leaders of the veterans. 'I submitted my dad's service papers and was allocated 31 acres'. He grew bananas, coffee, beans, and maize, selling most of it to traders. He was able to pay for schooling for all of his children.
Attempts to clear the land of its inhabitants began in early 2009 with press reports of armed groups beating people in Namwasa forest, leading over 10,000 residents to petition Lands Minister, Omara Atubo, in July 2009, to stop the evictions. Mr Atubo said, 'As a ministry in charge of land, we are saddened by what has happened to you. It is important to respect your rights irrespective of whether you occupy the land legally or not. There is no need for your colleagues to disappear, your property to be stolen or crops to be destroyed.'
'There were no consultations before the evictions,' Mr Allen said. Despite the ongoing legal claims, on 11 December 2009 three government ministers and the Resident District Commissioner visited the area and told people to leave by February. Police, backed by army troops, were deployed in December. Oxfam heard how the police dismantled the local primary school – named Bright Future – and set fire to the school chairs and desks.
Villagers told Oxfam that, in January 2010, the police arrested 18 community leaders. When people met to organize themselves, police broke up the meeting with teargas, according to villagers. 'They told us we were illegally encroaching,' Mr Allen said. During the evictions in February, 'they cut down our crops, burnt and demolished our houses,' Mr Allen added.
'We were beaten by soldiers. They beat my husband and put him in jail,' said Naiki Apanabang, who claims that her land was given in recognition of her grandfather having fought in the British army in Burma in the Second World War. 'The eviction was very violent. The people behind it were the Resident District Commissioner, the police, casual labourers of the New Forests Company, the army, and a private security company called Askar.'
Ms Apanabang has eight children. She now lives in a rented house for 15,000 shillings ($5.50) a month and says even finding this money is now a problem. She earns some money from casual work when she can find it. She cannot afford school fees. Before being evicted, she said her family ate well from a variety of crops they grew. 'Now we rely on posho [a maize porridge staple] and the days I fail to get posho, we sleep on empty stomachs,' she said. 'One of the things that most touches my life now is that I have forgotten the feeling of eating well.'
'I remember I wrote the details in my notebook,' she said. 'The officials gave us a deadline to leave between the 12th and 28th of February 2010. I chose to leave on the 12th. We saw them burning down people's houses and cutting down people's plantations. That convinced me to collect my children and leave. It was too painful. And what I feared is what has happened – we have nothing to eat. My children are not going to school and we don't know what the future holds.'
Mr Allen says: 'One of the things that pained me most was that my land was the source of income for school fees for my children. I am not an educated person. It was my plan to raise money to educate my children so that when I'm gone they can take care of other family members. But now I can only afford to send one of my six children to school. Now they are held back, they are nobody. That is the painful thing.'
'We are no longer interested in going back to the land we had before. We only want to have money to buy some new land somewhere else. Let the past settle,' Mr Allen said. 'I only pray to God that a miracle comes now, to get land somewhere else. I think that is when we shall have back the peace and happiness in the family that we have all lost.'
Maria Peimong is a 66-year old grandmother who was evicted from Kyato village in Mubende, where she told Oxfam she had lived for over 15 years. She used to farm maize, bananas, avocado, and jackfruit; she had eight cows and 15 goats. Now she is reduced to a precarious existence: 'I am an old woman. Now I just work as a casual labourer in this village where I found refuge. At my age how can I live like that? … It is so frightening.' She is terrified of falling sick as 'that means going for a day without a meal, because you cannot work.
To be continued…
…