Local Communities in Senegal Demand the Return of their Land Acquired by US Firm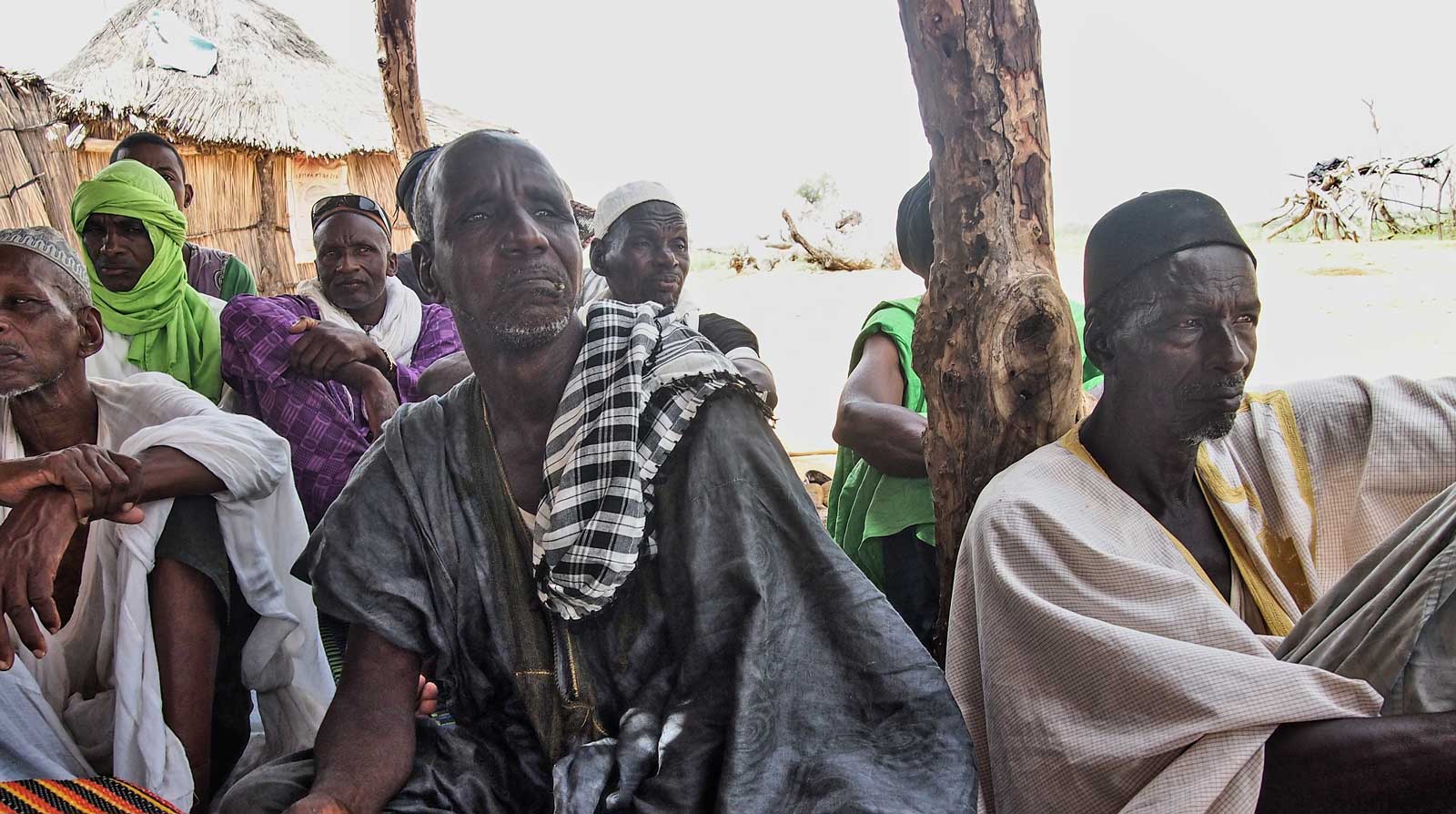 —FOR IMMEDIATE RELEASE—
US-based African Agriculture Inc. (AAGR) filed an initial public offering to fund a large-scale agribusiness project in the Saint-Louis region of Senegal on March 31, 2022.
AAGR acquired the concession formerly held by Senhuile, an Italian-owned firm that took control of the land a decade ago without consent from communities who have since been deprived of the land critical to their livelihoods.
On May 30, 2022, the Collectif pour la Défense du Ndiaël representing 37 affected villages sent a letter to AAGR Chairman and CEO Alan Kessler, demanding the immediate return of their land as well as adequate remediation and compensation for the harm and economic loss inflicted upon communities.
Oakland / Dakar / Paris — As US-based holding company African Agriculture Inc. (AAGR) has filed an initial public offering to fund a large-scale agribusiness project in the northern region of Saint-Louis in Senegal, local communities are demanding the company return their land stolen over a decade ago.
In 2012, Senhuile obtained 20,000 hectares of land for 50 years for an agribusiness venture following the declassification of part of the Ndiaël Nature Reserve. In the years since, communities who have been living in Ndiaël for generations have opposed the project and advocated for the return of their legitimate land. The Oakland Institute and GRAIN(link is external) have extensively documented the impact of the project.
"The 20,000-hectare concession has had a devastating impact on our people. It was granted against the will and without the consent of our communities, which have used this land for generations for wood, food, medicinal plants, and most crucially for pasture, given that we are agro-pastoralists whose livelihoods depend on livestock," said Elhadji Samba Sow on behalf of the Collectif pour la Défense du Ndiaël, representing 37 villages and over 10,000 people. The Senhuile project additionally blocked passage along customary routes between villages and water sources while the irrigation canals caused the death of at least three children by drowning.
On May 30, 2022, the Collectif pour la Défense du Ndiaël sent a letter to AAGR Chairman and CEO Alan Kessler, demanding the immediate return of their land as well as adequate remediation and compensation for the harm and economic loss inflicted upon communities by ten years of occupation of their land by the project. In his response to the letter, Kessler ignored the communities' demands and instead highlighted a number of actions by his company in their favour, including contributions for the celebration of Ramadan and Eid holidays and distribution of fodder to a few herders.
In 2018, AAGR purchased the Senhuile concession — now renamed Les Fermes de la Teranga (LFT) — from its Italian owners for US$7.9 million. LFT plans to establish a commercial farming business on the concession that will initially focus on producing and selling alfalfa for cattle feed in Senegal and for export. AAGR filed an initial public offering investment prospectus(link is external) in March 2022 and seeks to raise US$40 million to run its operations.
AAGR markets its proximity to the Lac De Guiers and emphasizes low water costs as a "competitive advantage" for their operations, which will require "the use of large volumes of water." Critically missing from their prospectus is the fact that the Lac De Guiers is the only water reservoir in the lower Senegal River basin, supplying a significant share of water to several cities -– including 65 percent of the water consumed in Dakar — and rural communities in Ndiaël during the prolonged dry season.
"In the IPO filings, AAGR makes no mention of the communities' opposition to the project and their more than 10-year long struggle to reclaim their land," said Oakland Institute Policy Director Frédéric Mousseau. "It is critical that the SEC and potential investors are made aware that the project is being established on land grabbed from local communities," he concluded.
"This project, which really started back in 2009 in Fanaye, has been marred with controversy," pointed out Renée Vellvé of GRAIN. "People have been killed, livelihoods disrupted, company officials have gone to jail and nothing serious has been produced on the farm. This endless cycle of injustice has to stop."
Romanian mining and energy tycoon Frank Timis owns 80 percent of AAGR while Senegalese investor Gora Seck owns 9 percent. Timis is a controversial figure due to his involvement in several projects, including a high-level corruption scandal over an oil contract in Senegal, in which the Senegalese president's brother was implicated.
In their IPO filings, AAGR say they expect to finalize an agreement with the Louisiana State University AgCenter, "to train, develop and transfer educational skills to local communities" in Africa. AAGR also indicate plans for a major carbon credit tree-planting project in Niger, claiming to have reached agreements with the local governments of Ingall and Aderbissinatt to lease over 2.2 million hectares of land.
"For our communities, this is a clear and ongoing case of land grabbing," concluded Samba Sow. "Alan Kessler and his company are aware of our demand for the return of our land but have chosen to sweep our lives and resistance under the rug. But we will not be silenced," he concluded.
Source: oaklandinstitute.org
Joint CSO Statement Calls on IFC and MIGA to Strengthen its New Approach to Remedial Action Policy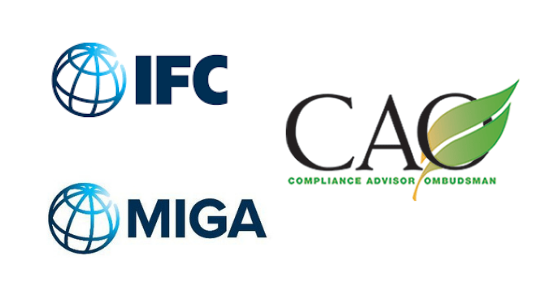 IFC and MIGA's proposed Approach to Remedial Action was supposed to explain how the institutions would address the well-known human rights and environmental harms caused by some of their investments. Instead, IFC and MIGA's response to the well-documented remedy gap is to publish a short paper that heralds its existing prevention and mitigation practices and does not admit that the institutions have a human rights obligation to remedy harms to which they have contributed. Thankfully, the document is only a proposal subject to public consultations, and we call upon IFC and MIGA to make significant changes.
IFC and MIGA have known for years that some of their investments cause environmental and social harm and that under international human rights standards, those who contribute to harm should contribute to providing remedy. An independent expert review, led by a former IFC president and requested by the World Bank's board, confirmed this standard and recommended that the institutions contribute to and promote access to remedy for project-related harms. The review deemed IFC and MIGA's current accountability system inadequate and remedial actions practically nonexistent. We are surprised, therefore, that the Approach to Remedial Action commits to very few new actions.
The proposed Approach includes some necessary elements, including a commitment from IFC and MIGA to facilitate and support clients' remedial actions, explore and pilot arbitration, and exercise leverage over clients, including through contractual provisions and the use of various financing instruments. IFC and MIGA largely failed to respond to the board's assignment, however, as they left out the following necessary components:
Types of remedy: Despite "Remedial Action" in its title, the proposed Approach does not provide a plan for delivering any type of remedy. Further, the draft policy does not include any examples of remedy that IFC and MIGA have provided in the past or how IFC and MIGA will contribute to and promote specific types of remedy available in the future. Remedy can take many forms, including compensation, apology, rehabilitation, satisfaction, and commemoration, among others. The Approach must detail how IFC and MIGA are prepared to provide each type of remedy when the circumstances arise.
Financial contribution by IFC and MIGA: Even though it is evident that remedy often costs money, "the Approach does not contemplate a systemic process for the financing of direct contribution to remedial action" (page v). This is a major gap. IFC and MIGA refer vaguely to directly financing remedy in "exceptional circumstances," but don't define them. IFC and MIGA don't even commit to directly remedying the cases in which its accountability mechanism, the Compliance Advisor Ombudsman (CAO), found that projects did not comply with the IFC's own Sustainability Policy and, as a result, contributed to harm. In line with the recommendations of the external review and per international standards, IFC and MIGA are obligated to financially contribute to remedy when their actions or inactions contribute to harm or when a client cannot provide financial contributions.
Access to remedy after the end of a project: While the proposed Approach to Remedial Action references its draft Responsible Exit Principles, it does not describe specific actions IFC and MIGA will take to provide access to remedy after a project is complete. We expect IFC and MIGA to commit to not exiting a project subject to an ongoing CAO process without the consent of community complainants or until all remedial actions have been delivered to communities, commitments not included in the draft Responsible Exit Principles. This directly contradicts established norms and must be amended accordingly. Further, the proposed Responsible Exit Principles fail to adequately recognize the importance of including impacted communities as full stakeholders in the process. Delivering responsible exit depends on IFC and MIGA's ability to provide holistic and inclusive remedy in line with communities' expectations.
Addressing the past: Even though IFC and MIGA's failure to remedy harm in the past is the impetus for this proposed Approach, the institutions appear to only commit to implementing their remedial obligations going forward, with the document stating that IFC and MIGA would implement this approach to "new" projects. This fails the communities who are currently experiencing harm and need remedy.
The Approach to Remedial Action is risk-averse from an institutional perspective but expects a risk tolerance from rightsholders. Communities adversely affected by development projects have a right to remedy that is co-designed by them. Prioritizing the bottom line over the people these development institutions serve is unacceptable and a missed opportunity.
IFC and MIGA have an opportunity to demonstrate leadership among development finance institutions and the wider financial sector by bringing this proposal in line with prevailing international human rights norms. A failure to do so would mark a concerning precedent and setback for the realization of the right to remedy. We hope that IFC and MIGA provide sufficient opportunities for civil society and project-affected communities to provide feedback on the draft policy, and deliver a revised proposal that meets the moment.
—–
Endorsed by:
Accountability Counsel
Bank Information Center
Center for International Environmental Law (CIEL)
American University Center for Human Rights and Humanitarian Law
Sustentarse (Chile)
Association of ESPOD Morocco
Inclusive Development International
NGO Forum on ADB
Recourse
ATGL Tunisia
Social Justice Platform
Studies and Economic Media Center
Oxfam
Yemeni Observatory for Human Rights
Green Development Advocates (GDA)
Foundation for Environmental Management and Campaign against Poverty (FEMAPO)
Observatory of Food Sovereignty and Environment
Observatoire d'Etudes et d'Appuis a la responsabilité Sociale et Environnementale (OEARSE)
Centre for Citizens Conserving Environment & Management (CECIC)
Centre for Nature Conservation and Development (CNCD)
Synaparcam (Synergie Nationale des Paysans et Riverains du Cameroun)
Bretton Woods Project
TINDZILA
Espace de Solidarité et de Coopération de l'Oriental
Wedyan Association For Society Development
Association Talassemtane for Environment and Development (ATED)
Resonate! Yemen
Lumière Synergie pour le Développement (LSD)
IFI Synergy Group
Gender Action
urgewald
Community Assistance in Development (COMAID)
Crude Accountability
Interamerican Association for Environmental Defense (AIDA)
Fundeps – Fundación para el Desarrollo de Políticas Sustentables
Action Research for Rural Development (RADER)
Global Labor Justice-International Labor Rights Forum (GLJ-ILRF)
International Trade Union Confederation
International Union of Food, Agricultural, Hotel, Restaurant, Catering, Tobacco and Allied Workers' Associations (IUF)
Centre for Financial Accountability, (India)
Just Ground
Util
Abna Alnazihein Organization
Social Justice Platform
Yemeni Observatory for Human Rights
Source: Accountability Counsel
Press Release – CICDHA: UN Human Rights Committee calls on China for mechanisms to investigate and punish harmful activities of its companies and banks abroad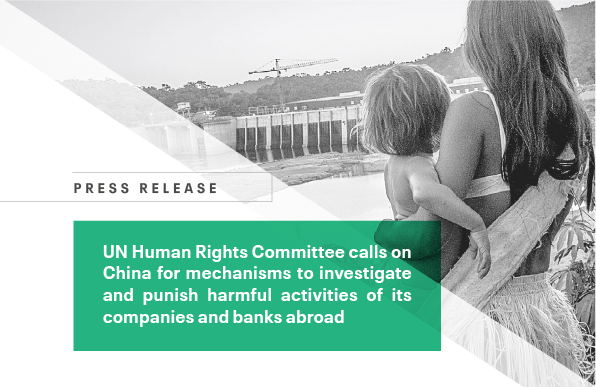 This past February, a delegation of 11 Latin American civil society organizations from the Collective on Chinese Finance and Investment, Human Rights and Environment (CICDHA) and representatives of affected communities, in collaboration with the International Service for Human Rights (ISHR) and FIAN International, participated in the third evaluation of the People's Republic of China (PRC) by the United Nations (UN) Committee on Economic, Social and Cultural Rights (CESCR), in Geneva. The organizations requested the CESCR to recommend that the PRC respects, protects and fulfills its extraterritorial obligations related to economic, social, cultural and environmental rights contained in the ESCR Covenant and other UN instruments it has signed and recognized. This obligation includes the activities of Chinese state-owned and semi-state-owned companies and banks, as well as projects in which they participate in Latin America.
Last January, CICDHA and ISHR submitted to CESCR a report documenting the impacts of Chinese corporate activities in 14 projects developed in 9 Latin American countries: Argentina, Bolivia, Brazil, Chile, Colombia, Ecuador, Mexico, Peru and Venezuela. The report demonstrates violations of the rights of indigenous peoples, the right to health, a healthy environment, water, food, housing, labor rights, and various civil and political rights, which are protected by UN treaties, covenants and conventions. Furthermore, the report states that "…China is one of the largest investors in Latin America and has an enormous responsibility to avoid the negative effects of the projects in which its companies participate or which are financed by its banks".
Marco Antonio Gandarillas, from Latinoamérica Sustentable and member of CICDHA, said "All the projects analyzed are located in areas of high social conflict, great environmental and cultural diversity, particularly in indigenous territories; it is for this reason that the evaluation of the ESCR Committee is crucial for the future of Chinese investments and financing in the region".
The Collective on Chinese Finance and Investment Human Rights and Environment (CICDHA in Spanish), has been working since 2018, documenting cases and reporting to various international bodies on the systematic non-compliance of China's extraterritorial human rights obligations in its business activities in Latin America.
During the dialogue with the Chinese state representatives on February 15, CESCR President Michael Windfuhr echoed civil society's concern by posing the following questions:
"What kind of binding regulations does China put in place to ensure that state-owned companies do not further undermine the human rights of people in other countries? How do victims of human rights abuses [by Chinese business actors operating abroad] access avenues of accountability or grievance mechanisms? How do they assess environmental, social and human rights impacts and mitigate risks and avoid harm [from Chinese funding and international cooperation]?"
The Concluding Observations of March 3rd, 2023, show that the CESCR welcomed several of the suggestions made by  CICDHA and expressed its concern "about the insufficiency of the legal obligations of companies under the jurisdiction of the State party to exercise due diligence on human rights" and recommended that the PRC ensure that companies and banks abroad "are held accountable for violations of economic, social and cultural rights, paying special attention to the territorial rights of indigenous and peasant farmers and the environmental impact…. and that follow-up and control mechanisms be established to investigate and sanction their harmful activities".
The CESCR also asked the PRC to ensure that victims of abuses have access to effective complaint mechanisms and adequate redress. In addition, it urged the PRC to take steps, in particular with companies involved in the extraction of commodities and construction of infrastructure, "to ensure the legal accountability of corporate entities…in relation to violations of economic, social and cultural rights in the context of their activities abroad."
The CESCR's recommendations help pressure the PRC to establish mechanisms to monitor, investigate and sanction human rights abuses by Chinese business and financial activities outside Chinese territory. In addition, they seek to have the PRC enact policies that oblige Chinese companies and financiers to adopt measures to repair, redress and remedy current impacts and to establish monitoring mechanisms to prevent future impacts.
"Having the Committee recommend that Chinese companies and banks be held legally responsible for human rights abuses arising from their operations abroad is not only a step forward in protecting Chinese investment, but also in guaranteeing human rights in any context of transnational capitalism," said Sofía Jarrín of Amazon Watch, a CICDHA member organization.
CICDHA welcomes the concluding observations of the CESCR, and considers the results of the assessment to be a substantial step forward towards greater accountability for human rights.
Source: amazonwatch.org
"Development" Projects Yield Starvation and Death in Ethiopia's Lower Omo Valley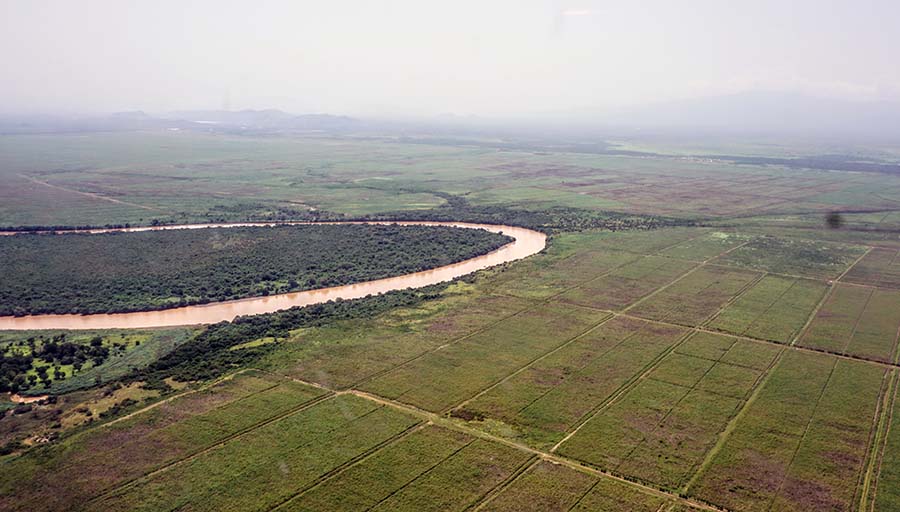 In a new report, Dam and Sugar Plantations Yield Starvation and Death in Ethiopia's Lower Omo Valley, the Oakland Institute sounds the alarm on the severe humanitarian crisis faced by Indigenous tribes in the Valley and urges government and aid agencies to provide relief assistance.
With attention centered on the civil war in the country over the last two years, the hunger and health crisis in the Omo Valley caused by the Gibe III Dam and the Kuraz Sugar Development Project has gone ignored.
For years, the Oakland Institute has alerted on the threats posed to the local population — with their traditional livelihoods, environment, and lands destroyed by the so-called "development" projects. New field research now confirms the disastrous impacts as the situation rapidly deteriorates with Indigenous children dying of disease and starvation.
"The very survival of the Kwegu, Mursi, Bodi and other tribes is under threat. Acute hunger is common with the dam's blockage of the annual flood — a natural event that the inhabitants of the valley relied on for centuries for cultivation — compounded with their loss of land to the sugar plantations," said Anuradha Mittal, Executive Director of the Oakland Institute. Malnourished villagers are also suffering from deadly diseases — chickenpox and measles outbreaks, malaria, and leishmania. Contamination of the Omo River and its tributaries has led to a resurgence of cholera and polluted drinking water with chemicals, worsening the health crisis. The cattle, wild game, and fish that communities traditionally relied on for subsistence have disappeared. The economic opportunities the projects were supposed to generate have not materialized — exacerbating poverty in the region.
Given this dire situation, it is imperative for the Ethiopian government and humanitarian agencies to immediately turn their attention to the Omo Valley and provide urgent food, water, and medical assistance. "The Indigenous communities of Lower Omo—many forcibly evicted under the previous regime to make way for the construction of the Gibe III Dam and sugarcane plantations— today face starvation and death. Beyond immediate relief, addressing past abuses is essential. After years of broken promises and widespread abuse, any future development in the Lower Omo will have to be based on respect and protection of Indigenous rights," concluded Mittal.
Source: oaklandinstitute.org