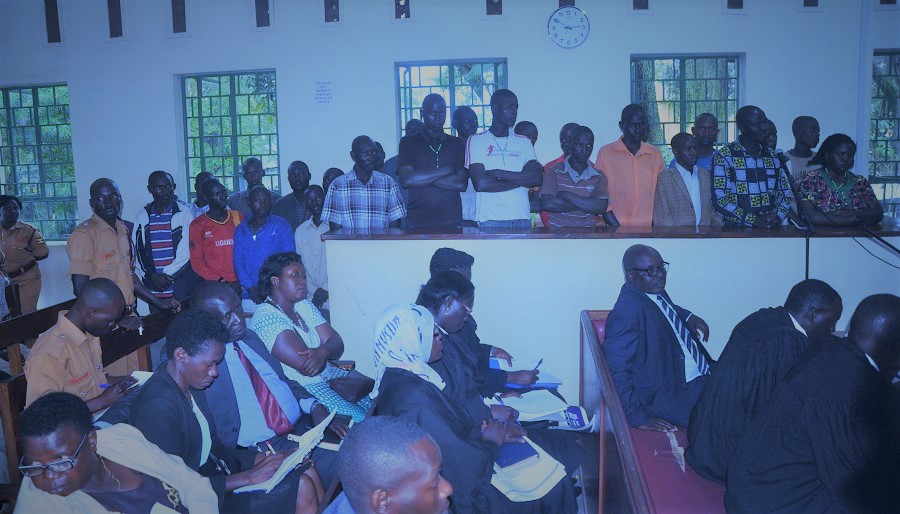 By witnessradio.org Team
Mubende – Kampala – Trial judge Anthony Oyuko Ojok in the matter of the 28 land rights defenders has put all the accused on defense after prosecution closed its case on March 16th, 2020. 18 prosecution witnesses have been produced in a special criminal trial which has so far lasted for four (4) months.
The trial of the 28 land rights defenders has redefined the price to be paid by those defending other people's rights and it has changed civic space landscape in Uganda.
The work of land rights defenders has been criminalized and the 28 land rights defenders are facing nine (9) counts including murder and aggravated robbery.
Land rights defenders under trial include; Nantubiro Grace aged 34 yrs, Mugwabya Ronald aged 35 yrs, Mugisha Focus aged 26 yrs, Ssekamana Kaloli aged 42 yrs, Mwikirize Keleti, 24, Ssewanyana Kizza John, 23, Tumwine Moses, 22, Bigirwa Gilbert,48, Mulindwa Tadeo, 19, Kayesu Patrick, 30, Kyalimpa Tobias, 24, Mugisha Stephen, 28, Mwesigye John, 21, Kiiza John Bosco, 19, Byakatonda Aroon, 18, Manirikiza Elidefunce, 42, Tabalamule William, 57, Kobwemi Christopher, 31, Kiwanuka Emmanuel, 26, Senkula Charles, 26, Ssemombwe George, 38, Musinguzi Paul, 36, Biryomumisho Fred, 27, Maniriho Forodis, 18, Habimana Ernest, 26, Byaruhanga Emmanuel, 24, Mwesigye Julius, 19, Kezaala Saul ,21.
Grace Nantubiro, the only woman, and Ronald Mugwabya are members of witnessradio.org.They were framed and imprisoned for speaking against the illegal eviction and empowering the affected communities to understand their land rights. The affected communities were in turn expected to use the same skills and knowledge to push back the illegal land evictions. The remaining 26 accused are land rights defenders who were sensitizing their peers on their land rights.
The illegal arrest and persecution of the 28 land rights defenders has weakened the communities' defense for their land since they lost their livelihood and means of survival to a single individual, Kaweesi George who dispossessed them of 322.5 hectares.
The grabbed land is registered on Block 168, Plot 19, 22 and 23 with over 322.5 hectares covering five villages namely, Kambuye, Kikono, Kyabaana, Kanseera and Lwensanga in East Division, Mubende Municipality, Mubende district.
The defenders are to be put to their defense on April, 30th, 2020 at 9am and will be heard by Justice Anthony Oyuko Ojok .