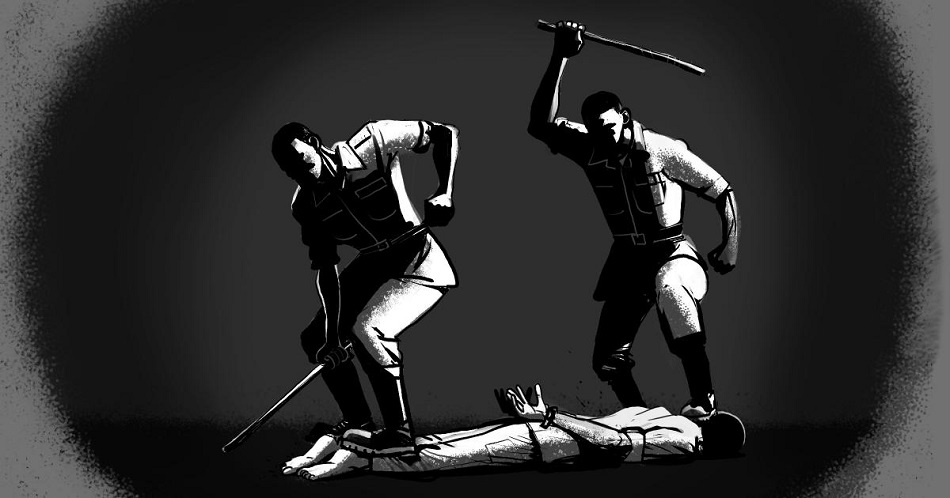 By witnessradio.org Team
Mubende – Uganda – As a criminal trial for the 28 land rights defenders enters its 15th day, trial judge Justice Anthony Oyuk Ojok has ordered Mubende district police to investigate its officers over allegations of torturing a land rights defender while in police detention.
The order follows a complaint by Ssenkula Charles, 27 years, a resident of Kikono village, Kanseera Parish, East Division, Mubende Municipality who told court that a police officer attached to Mubende police station, who is also the Investigating Officer (IO) to their case Ojuk Livingstone and his colleagues (police officers) tortured him while in detention at Mubende Central Police Station in the month of December 2018.
Ssenkula, a peasant farmer and an accused person (A20) in the Criminal Case Vide MBD-CO-AA-153/2018 revealed that he was subjected to torture upon his arrest on December, 06, 2018, because police wanted him to pin fellow land rights defenders on the same criminal file of nine (9), counts including aggravated robbery and murder among others.
"I was picked from police cells by masked police personnel in the wee hours of December, 6th, 2018, taken in one of the swampy areas of Mubende district, tortured and threatened with death if do not confess to the offenses and accept to pin fellow accused persons," said Ssenkula.
Ssenkula is among the 28 defenders facing the criminal trial. Others include; Nantubiro Grace,34, Mugwabya Ronald, 35, Mugisha Focus, 26, Ssekamaana Kaloli, 42, Mwikirize Keleti, 24, Ssewanyana Kizza John, 23, Tumwine Moses, 22, Bigirwa Gilbert,48, Mulindwa Tadeo, 19, Kayesu Patrick, 30, Kyalimpa Tobias, 24, Mugisha Stephen, 28, Mwesigye John, 21, Kiiza John Bosco, 19, Byakatonda Aroon, 18, Manirikiza Elidefunce, 42, Tabalamule William, 57, Kobwemi Christopher, 31, Kiwanuka Emmanuel, 26, Senkula Charles, 26, Ssemombwe George, 38, Musinguzi Paul, 36, Biryomumisho Fred, 27, Maniriho Forodis, 18, Habimana Ernest, 26, Byaruhanga Emmanuel, 24, Mwesigye Julius, 19, Kezaala Saul ,21.
Grace Nantubiro, the only woman, and Ronald Mugwabya are members of witnessradio.org.They were framed and imprisoned for speaking against the illegal eviction and empowering the affected communities to understand their land rights. The affected communities were in turn expected to use the same skills and knowledge to fight illegal evictions. The remaining 26 accused are land rights defenders who were sensitizing their peers on their land rights.
It is after the illegal arrest and persecution of the 28 land rights defenders, that communities' defense of their land was weakened. They lost their livelihood and means of survival to an individual, Kaweesi George, who dispossessed them of 322.5 hectares.
Justice Oyuk ordered police to investigate torture allegations and submit a report to his office for his further action.