Trial Judge orders investigations into torture claims by a land rights defender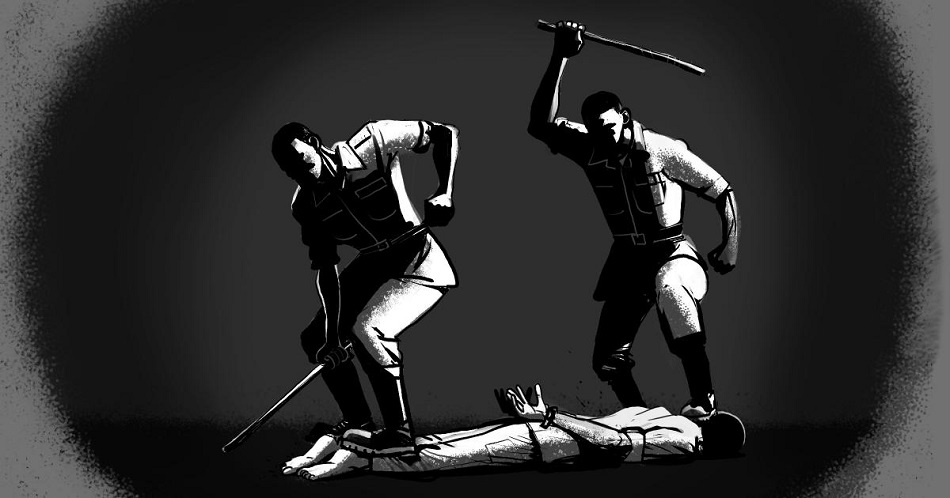 By witnessradio.org Team
Mubende – Uganda – As a criminal trial for the 28 land rights defenders enters its 15th day, trial judge Justice Anthony Oyuk Ojok has ordered Mubende district police to investigate its officers over allegations of torturing a land rights defender while in police detention.
The order follows a complaint by Ssenkula Charles, 27 years, a resident of Kikono village, Kanseera Parish, East Division, Mubende Municipality who told court that a police officer attached to Mubende police station, who is also the Investigating Officer (IO) to their case Ojuk Livingstone and his colleagues (police officers) tortured him while in detention at Mubende Central Police Station in the month of December 2018.
Ssenkula, a peasant farmer and an accused person (A20) in the Criminal Case Vide MBD-CO-AA-153/2018 revealed that he was subjected to torture upon his arrest on December, 06, 2018, because police wanted him to pin fellow land rights defenders on the same criminal file of nine (9), counts including aggravated robbery and murder among others.
"I was picked from police cells by masked police personnel in the wee hours of December, 6th, 2018, taken in one of the swampy areas of Mubende district, tortured and threatened with death if do not confess to the offenses and accept to pin fellow accused persons," said Ssenkula.
Ssenkula is among the 28 defenders facing the criminal trial. Others include; Nantubiro Grace,34, Mugwabya Ronald, 35, Mugisha Focus, 26, Ssekamaana Kaloli, 42, Mwikirize Keleti, 24, Ssewanyana Kizza John, 23, Tumwine Moses, 22, Bigirwa Gilbert,48, Mulindwa Tadeo, 19, Kayesu Patrick, 30, Kyalimpa Tobias, 24, Mugisha Stephen, 28, Mwesigye John, 21, Kiiza John Bosco, 19, Byakatonda Aroon, 18, Manirikiza Elidefunce, 42, Tabalamule William, 57, Kobwemi Christopher, 31, Kiwanuka Emmanuel, 26, Senkula Charles, 26, Ssemombwe George, 38, Musinguzi Paul, 36, Biryomumisho Fred, 27, Maniriho Forodis, 18, Habimana Ernest, 26, Byaruhanga Emmanuel, 24, Mwesigye Julius, 19, Kezaala Saul ,21.
Grace Nantubiro, the only woman, and Ronald Mugwabya are members of witnessradio.org.They were framed and imprisoned for speaking against the illegal eviction and empowering the affected communities to understand their land rights. The affected communities were in turn expected to use the same skills and knowledge to fight illegal evictions. The remaining 26 accused are land rights defenders who were sensitizing their peers on their land rights.
It is after the illegal arrest and persecution of the 28 land rights defenders, that communities' defense of their land was weakened. They lost their livelihood and means of survival to an individual, Kaweesi George, who dispossessed them of 322.5 hectares.
Justice Oyuk ordered police to investigate torture allegations and submit a report to his office for his further action.
Land grabs: Officials in Mubende district are colluding with economically powerful and politically connected people to grab local communities' land.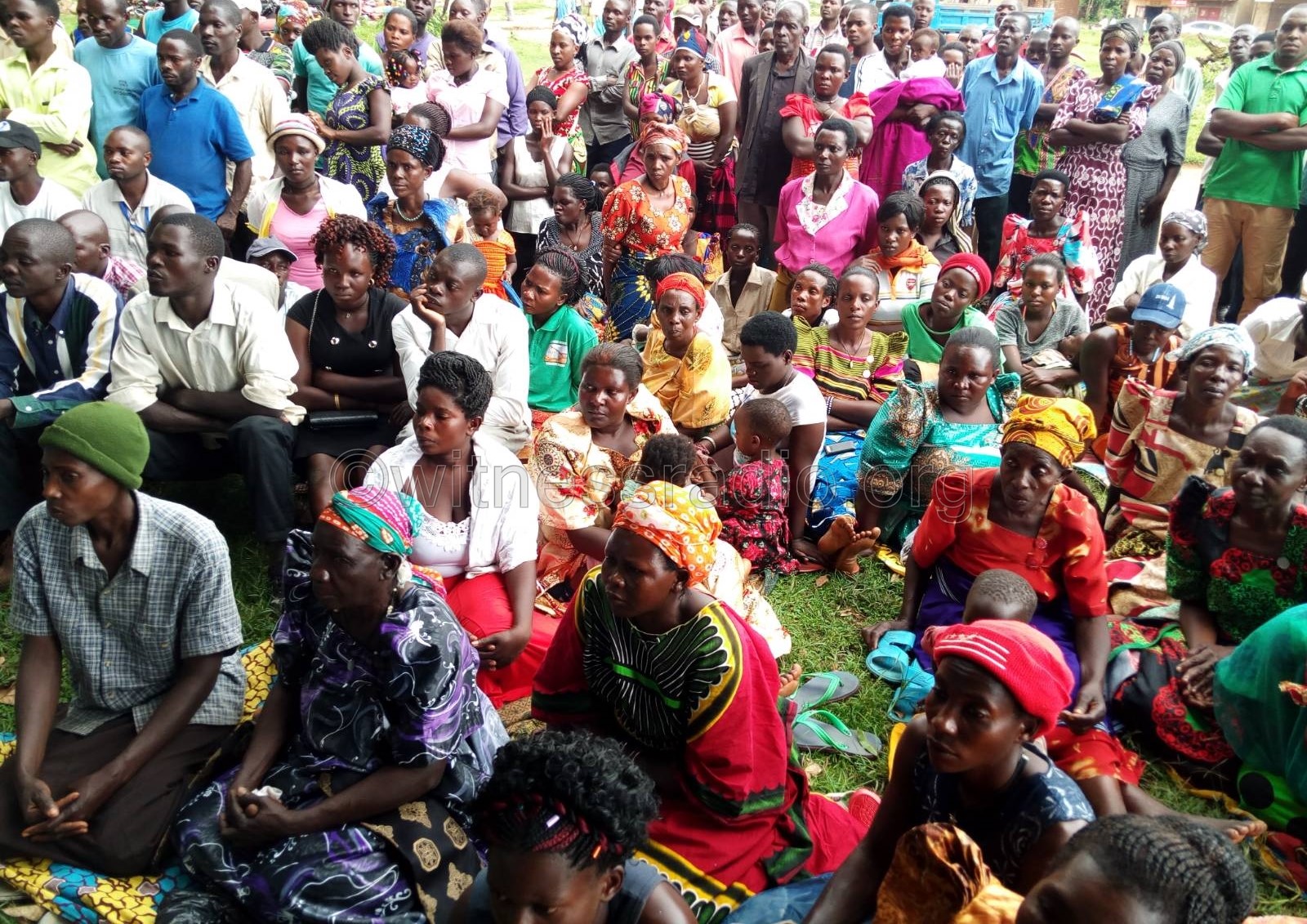 By Witness Radio Team
Justine Nakachwa (not her real name) had never thought of losing land she and her family had happily lived on for decades. Her dream of owning farmland had come true.
The land passed down to generations of descendants from the late 1970s was now being claimed by a renowned businessman. She got staggered.
"I was shocked by this news because I have spent most of my life here. Am wondering how he could acquire the land without the knowledge of the whole village." She painfully revealed this while speaking to a Witness Radio-Uganda reporter.
The sixty-year-old is one of the community members of over 800 smallholder farmers in the three villages; Biwaalwe, Kabaale, and Kyagaranyi in Kanyogoga parish, Butologo sub-county in Mubende district currently facing eviction by Tubikaku Uganda Limited, a company owned by City businessman Desh Kananura.
The smallholder farmers have been practicing subsistence farming on this land to earn a living since the 1970s.
Intending to secure ownership and legalize it, they conducted a search and due diligence, which revealed that the land had no encumbrances.  In 2012, they applied for a lease. Sadly, the Mubende District Land Board declined to grant their request and instead awarded the lease of 906.4 hectares to a ghost company Tubikaku Uganda Limited.
The economically powerful and politically connected to grabbing the downtrodden land with the assistance of land board officials is rapidly growing in Uganda. With the aid of district land boards, cartels are increasingly disposing of smallholder farmers. This practice is now predominant in many districts in the country, especially Mubende district.
It is alleged that the District Land Board has previously leased people's land to tycoons without following proper legal land acquisition procedures.
Seven years ago, a community's land in Lwebigajji village in Mubende district of 226.5 hectares were grabbed by a local investor with the help of district land board officials. The community had lived on their land for over 30 years.
When the community showed interest in acquiring a leasehold on the land, the district land board of Mubende hurriedly offered the title to one Deo Semwogerere Mutyaba, a local businessman, who does not even own a decimal on the land.
Consequently, over 2000 families were affected. "In 2014, we requested the Mubende district lands board for a lease on this land, got surveyed using our efforts and resources, however upon returning the leasehold title in 2015, it had Semwogerere's names as the owner of the land." Grace Nantubiro, one of the community leaders said.
Samuel Wambi Mamali, a local businessman was also helped by the Mubende district land board officials to allegedly steal local community's land covering three villages. These include Kyamukoona, Kijojolo, and Kalagala in Mubende District that have been occupied by locals for decades. The villages accommodate over 800 families.
The villagers indicated that Maamali fraudulently acquired a lease title he never applied for, did not consult community members on the land, nor at parish, or sub-county land committees that should have advised and guided on whether the land was lawfully being occupied and cultivated.
The few listed cases above are among several cases of grabbed land by wealthy and politically connected people in the Mubende district.  The trend of district land boards facilitating land grabs has left many local and indigenous communities landless.
A community of over 300 smallholder farmers conned as their land is sold to a local investor without their consent.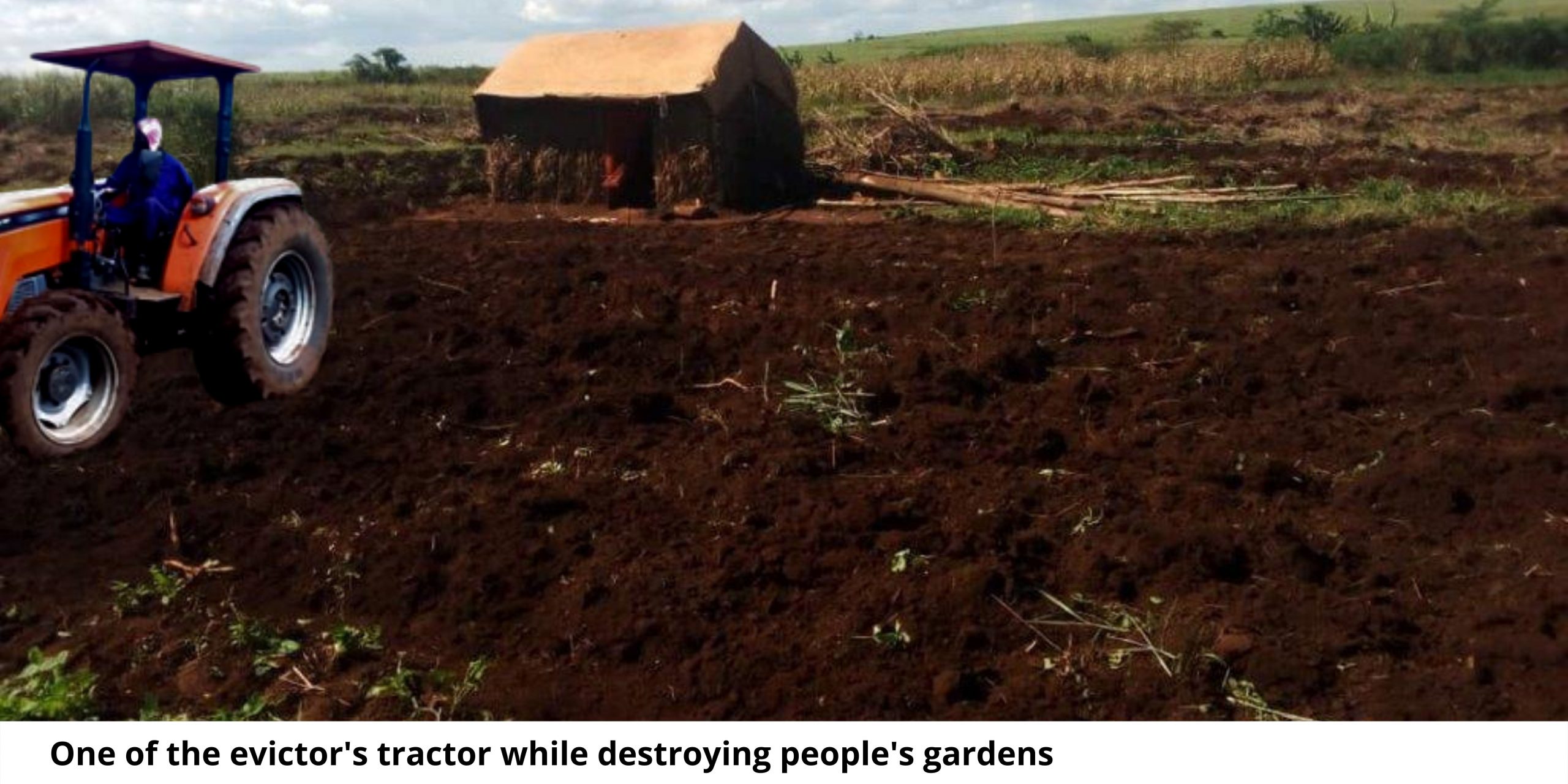 By Witness Radio Team
As foreign agribusinesses take over Kiryandongo communities' fertile land, other local investors are also eyeing the remaining land occupied by the poor families in the southwestern district of Uganda to grab their land.
A community of over 300 smallholder farmers in Ranch 22, Nyamuntende village in Kiryandongo district is being evicted by a local businessman Maseruka Robert who claims ownership of the land some have lived on for decades. Mr. Maseruka connived with some leaders in the community to grab land from the poor.
The evictions that started in August this year have caused the displacement of over 50 households so far on land measuring over 2000 acres without consultations or being fairly compensated. Crops belonging to residents, and houses were razed.
When evictions by multinationals soared in Uganda, the community acted swiftly to protect the interest on the land and avert a land grab. And in 2015, they applied for a lease of 49 years on the land from the Kiryandongo district land board which was granted to them.
However, unbeknownst to them, schemers would take advantage of this opportunity to grab their land. Earlier, the residents whose land is located on Ranch 22 Block 8 Bunyoro Ranching Scheme entrusted Wilson Sikhama, Ochema Richard, and a few other community members as their leaders in 2016 during the requisition of the land.
According to the residents, initially, the application processes unfolded as they had planned, however, Sikhama and Ochema allegedly connived with other people not known to the community to drop the names of some of the community members whom they had entrusted and replaced them with Julius Isingoma, Gerald Tumusiime, Messanger Gabriel Wabwire, Musokota William John and Simon Mwesige.
Residents further added that the land was titled in the names of the seven people who excluded the villagers. In 2019, when the community expected the location forms of the land per person, they understood that the land they had acquired was sold to one Maseruka Robert without their notification by Sikhama and the group.
In the same year 2019, the community ran to court seeking its intervention to regain the ownership of their land. The community was led by one of their own Mbabazi Samuel. In a blink of an eye, Mbabazi allegedly reached an agreement with the aforementioned group. On the 22nd of October 2020, he allegedly sold the said land to a group of people (Mr. Sikhama's group) at One Hundred Million Shillings (100,000,000 equivalent to USD 26,483.79) without the approval of the community he represented.
After completion of the sale, the group of schemers sold the land to Maseruka who is now evicting the community.
In our interview with Maseruka, he failed to explain how he acquired the land but, insisted that he wanted the community to leave his land. "These people should leave my land because I want to use it, this is my land." He maintained.
Some of the evictees whose houses were destroyed had relocated to their neighbors' homes for fear of what would befall them. A 42-year-old widow and a mother of 10 said Maseruka's accomplices destroyed her house leaving her destitute.
"These people wanted to give me 700,000/= (185.39) for the 15 acres of my land. When I resisted, they began destroying what they found including my house. They told me the money they were giving me was enough for me to vacate." She explained.
The chairperson of the affected community, Mushija Caleb said his people are being forcefully evicted because they refused the peanuts given to them as compensation. He reiterated that his people don't want to leave their land.
"They should not think of compensation irrespective of the amounts they are willing to offer because people are not interested in surrendering their land," he added.
A self-claimed landlord who caused the imprisonment of six community land rights defenders on false charges was aligned before the court and charged with 28 counts.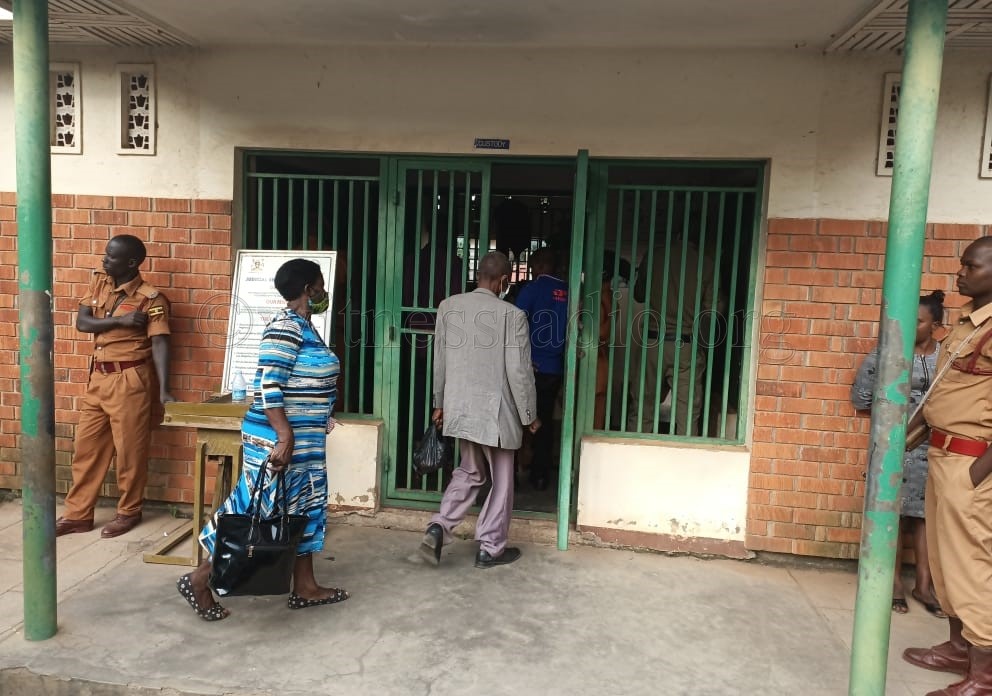 By Witness Radio Team
A magistrate court at Mubende has charged a self-claimed landlord with 28 counts plus murder. Naava Milly Namutebi caused the arrest of six community land rights defenders, falsely accused them of murder, and got imprisoned for three years without trial. 
Naava's appearance before the court followed shortly after the Director of Public Prosecution (DPP) dropped murder charges against six community land rights defenders. These include; Tumusiime Benjamin, Bagirana Innocent, Habana Domoro, Miyingo Gerald, Byangaramani Charles, and Byekwaso Fred.
Naava was charged along with Bulasio Musoke, Richard Mugagga, Henry Kaaya, among others. They were not allowed to answer any charges as the court had no power to make legal decisions and judgments on charges read to them.
The prosecution alleges that Naava and others still at large, committed offenses in areas of Mubende and Kampala districts between 2006 and 2021.
From 2012 to date, Naava got help from the senior army, police, and other public officers in Mubende orchestrated violence and committed human rights violations/abuses while forcefully evicting over 4,000 people off their land. 
The land being targeted measures 3.5 square miles covering villages including Kirwanyi central, Kirwanyi East, Kirwanyi West, Nakasagazi, Kituule A, Kituule B, Kibalagazi A, Kibalagazi B, Kakkanembe, Bukyambuzi A, Bukyambuzi B, Kisende, Mulanda, Kituule central, Kirwanyi A, and Butayunja in Kirwanyi and Kituule parishes in Butoloogo Sub County in Mubende district.
Naava and others accused were remanded to Kaweeri prison until 19th/July/2022.