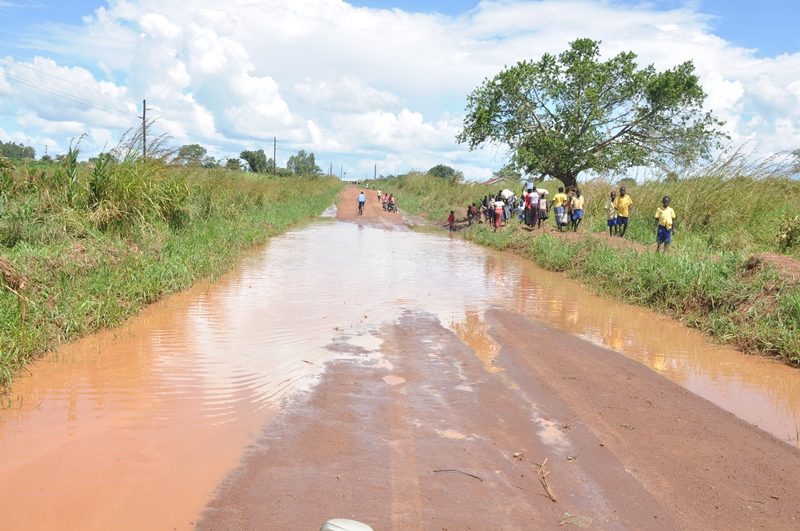 Access to information: Challenge those who hold information in courts of law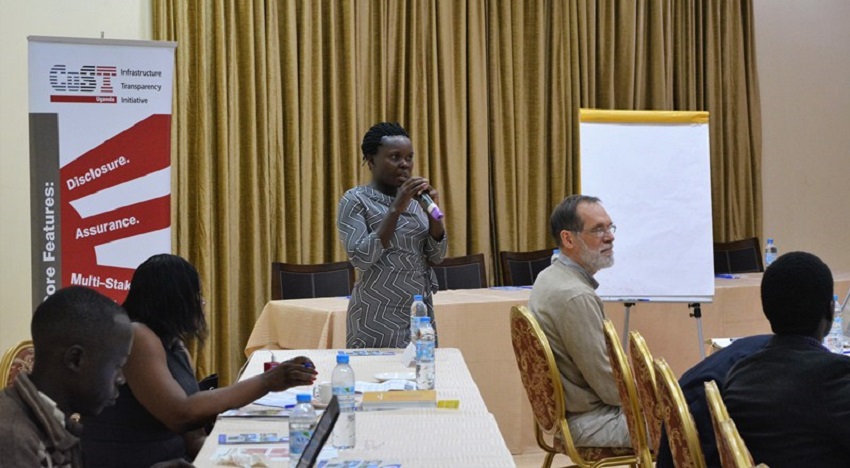 Stakeholders in the media fraternity have been advised to utilize provisions within the law to access information where it is denied.
Speaking to journalists on media law in Uganda at a meeting organized by CoST Uganda Chapter – the Infrastructure Transparency Initiative hosted by Africa Freedom of Information center (AFIC) , Vision group lawyer Tony Kirabira said many office bearers hold crucial information under the guise of "classified information" even where it does not apply.
"Court is supposed to determine what is considered classified, but because journalists are not aware of their rights, they automatically back off when told that information is classified. It may be hard for one person to go to court but a group can challenge this". Said Mr. Kirabira.
At the same meeting, CoST Uganda Chapter unveiled media awards for journalists who run stories on infrastructure transparency.
The Programme Officer, Olive Kabatwairwe said the awards are meant to encourage journalists to cover stories on infrastructure, use disclosed information to inform authentic reporting and engage duty bearers to account.
She said,  all submissions must have been published or broadcast in a Ugandan media outlet or a regional outlet with a substantial Ugandan audience between August 2017 and July 2018.
"The awards will be awarded based on who scored highest in developing objective articles, running stories, social media posts in the CoST core features of Assurance, Disclosure, Social Accountability and Multi-stakeholder working arrangement"Kabatwairwe emphasized.
She adds that a decision has been taken to have the media submit entries based on areas of stakeholder participation in the delivery of infrastructure projects in Uganda including;
1. Stakeholder participation in the delivery of infrastructure projects in Uganda
2. Data disclosed and data withheld
3. Supervision of contracts  and delivery of public works
4. Climate change and infrastructure development.
CoST is a Multi-stakeholder working initiative that promotes transparency, value for money through building the capacity of citizens and Procurement Entities to use data to inform the delivery of infrastructure projects. The idea is that, information is power, and with correct information, everyone will be armed with the rightful tools of engagement.  CoST's work is informed by tools such as the Infrastructure Data Standard, the Infrastructure Monitoring pathway, Disclosure frameworks,  Multi-Stakeholder working members, and the Assurance Process. These help the initiative, identify best practices, lessons and case studies for replica.
..
Accessing information still a problem in Uganda: civil society
By witnessradio.org Team
Government has been asked to work towards enabling Ugandans access information for improved service delivery in the infrastructure sector.
The call was made by the executive director Africa Freedom center Glibert Sendugwa during a two days media training on the CoST Uganda project hosted by the center.
Sendugwa says that there is a lot of information hidden from the public on contracts in the infrastructure sector and this has to change.
"Currently the Uganda government avails only 12% of information to the Citizens, this is very low. Countries like Ethiopia have reached a 40 percent mark" Mr. Gilbert Sendugwa said.
He said government has continued to avail information about contracts during the commissioning of projects but at the end nothing is done and following up such projects becomes a problem.
CoST is a multi-sector initiative with participating countries in four countries. CoST promotes transparency by disclosing data from public infrastructure investment, helping to inform and empower citizens to help them hold decision makers to account.
Speaking at the same training workshop, the spokesperson ministry of works, Susan Kataike appealed to the journalists to always do research for better stories.
"The problem with journalists in Uganda is that they don't research, they come to you with allegations, at least have 80 of the information then I give you the 20% to complete the story." She challenged journalists.
Meanwhile the vice chairperson multisector group [MSG] Enock Nimpamya promised that his commission will continue to work with the media for more transparency in the infrastructure sector.
"Closing Space for Civil Society and Media in East Africa: Forging a Collaborative Response"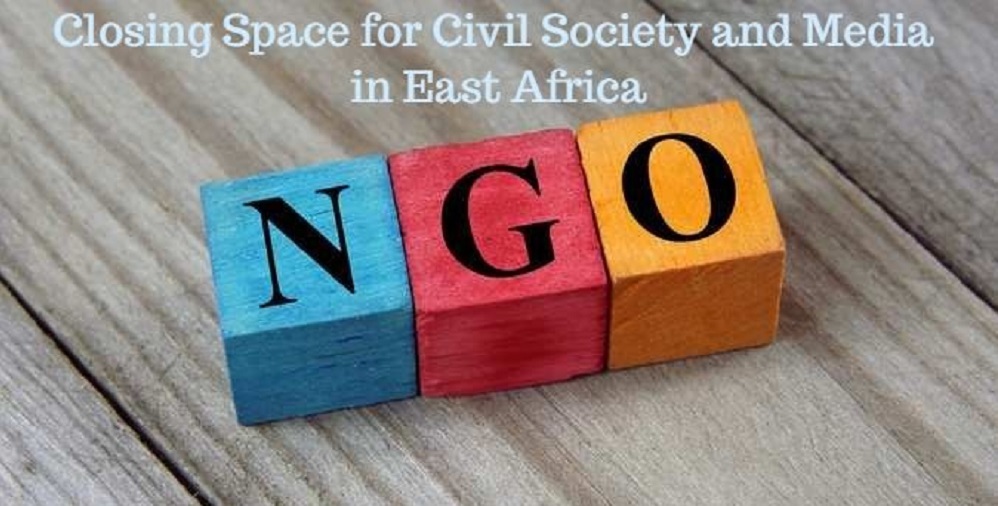 23 February 2018 (Nairobi, Kenya)
We, more than 60 civil society organisation and media representatives from Kenya, Tanzania and Uganda working on human rights, democratic development, transparency, digital media, women and youth empowerment, legal aid, litigation and other issues of public interest are gathered in Nairobi to express our firm resolve to stand together in solidarity as civil society and media.
We will remain vigilant against threats to civic space. We commit to collaborate and provide support to each other through individual and joint efforts at the national and regional levels to combat shrinking space.
We note with concern a trend of closing civic space in the three East African countries characterized by increasing impunity. This has been evidenced by repressive tactics perpetrated by state and non-state actors, including among others:
Intimidation of and reprisals against journalists and activists through smear campaigns, arrests, detention and disappearances;
Enactment of restrictive laws and policies;
Disregard for the rule of law such as the continued failure in Kenya to operationalize the PBO Act despite several court orders;
Constraining financing of civil society organisations and media;
Curtailment of civil society's and media's freedom of movement and ability to freely operate especially in electoral contexts;
Restrictions on access to information through banning of newspapers and shutting down of media outlets and civil society organisations as has happened in Tanzania;
Surveillance of activists and journalists in physical and digital spaces;
Criminalization of dissent;
Use of excessive force to disperse peaceful protests and demonstrations;
intimidation of the judiciary and other governance and oversight institutions that should be independent; and
Harassment of civil society organisations by raids, break-ins, confiscation of documents and equipment as has been experienced in Uganda.
We are cognizant that shrinking civic space is not unique to the region but is contextualised by the decline in democratic ideals globally. Governments seem to adopt repressive tactics from each other and use similar justifications to shrink civic space including national security prerogatives and promotion of accountability within the media and civil society sectors.
Further, as civic space advocates, we note that a repressed civic environment adversely affects not only civil society organisations, the media and ultimately other sectors, but also the ordinary citizen, and leads to cultural, economic, political and social decline of a society.
As a coalition, we have identified areas in which joint interventions are necessary and have developed regional strategies and interventions to maintain and claim civic space. We resolve:
To take joint actions to build mutual understanding and ongoing dialogue between media and civil society;
To engage in regional advocacy;
To strengthen protective mechanisms, including litigation and legal aid;
To develop innovative funding and revenue streams;
To increase the use and protection of digital space;
To enhance civil society and media accountability internally and within the political context;
To work towards redefining narratives and public perceptions of the sector; and
To mobilize academia in order to leverage knowledge and research outputs.
At the national level, we identified several initiatives to enhance civil society organisations and media cooperation including establishing ongoing dialogue platforms, developing joint capacity building initiatives, building trust, addressing mutual security concerns online and offline, and mitigating risks.
We will engage with other actors including academia, professional associations, young people, and state institutions, to cultivate a broader understanding and appreciation of the role of civil society and media in a democratic society.
We pledge to continue collaborating towards ensuring a safe and enabling space for civil society and media in East Africa.