DR Congo oil palm company bankrolled by development banks unleashes wave of violence against villagers after peaceful protests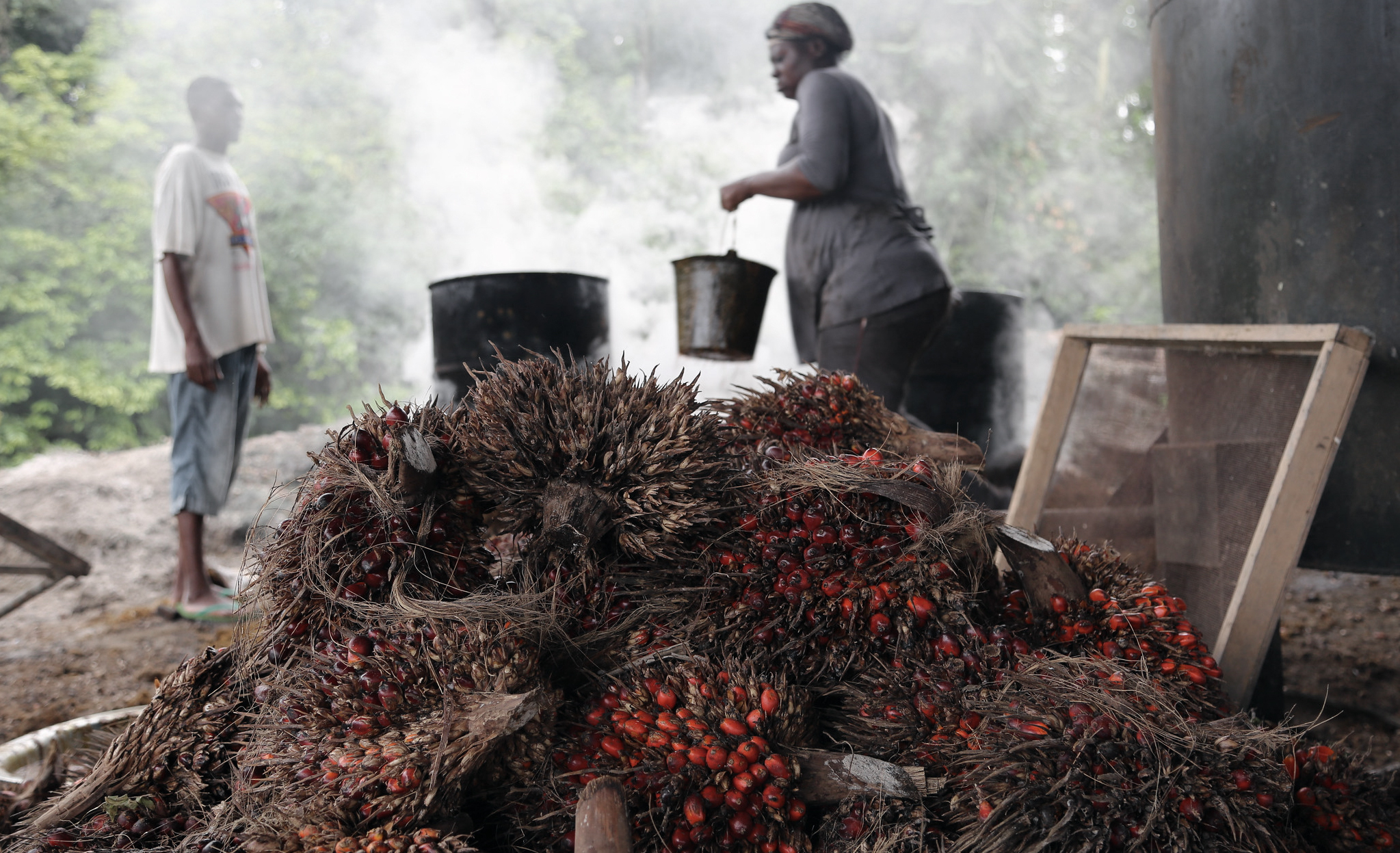 On 13 February 2021, local communities in the area of Lokutu, Tshopo Province, Dr Congo organised peaceful actions to protest the arrival of a delegation of investors organised by the oil palm plantation company Plantations et Huileries du Congo (PHC). The villagers were protesting against the failure of the company to provide them with any benefits after more than a 100 years of illegally occupying their lands and the recent takeover of the company by a private equity fund called Straight KKM without any involvement from the communities. Since 2013, PHC, until last year owned by the Canadian company Feronia Inc, has received over US$150 million in financing from the development banks of the UK, Belgium, France, Germany, the Netherlands, Spain and the US. 
A peaceful protest was held at the airplane landing strip in Mwingi to greet the arrival of a delegation of the new owners of PHC/KKM. The new director of PHC and one of its new owners, the Congolese businessman Kalaa Mpinga, was not part of the delegation, which was composed of 3 Asian investors, a representative of PHC and a South African. The villagers then marched from the airfield to the office of PHC in Lokutu.
The next day, the delegation attempted to visit some of the affected communities (notably in Mindua). In some places they were confronted with roadblocks organized by the communities as a sign of discontent. 
In the days that followed, PHC's security guards (known as gardes industriels) began terrorising the local populations.
According to the information provided by numerous local sources, dozens of villagers from the communities of Mindua, Mwingi, Bolesa, and Mosite (all located in the vicinity of PHC's Lokutu plantations) suffered arbitrary arrests and/or physical violence. At the present time, it appears that 12 people are still being held in Yangambi prison (150 km from Lokutu and therefore far from their villages and from any support to assist them in asserting their rights). 
One of those attacked by the company's security guards died shortly after being badly beaten, tortured and detained. Blaise Mokwe, a 33-year old man engaged to be married, from the village YAKOTE, community of BOLESA, BOLINGA sector, Yahuma territory in the middle of the PHC/ Feronia/ KKM Lokutu plantations in the Province of Tshopo in the Democratic Republic of Congo, died on 21 February 2021 as a result of torture, assault and beatings, perpetrated by the security guards of PHC / Feronia / KKM in Yahuma/Basoko territory, at the Lokutu plantation site, Tshopo Province (DRC).
Here is a breakdown of the arrests and assaults that have occurred so far:
1] Arbitrary arrests in Mwingi – 13 February 2021 – of 3 RIAO-RDC members and 1 community leader
2] Arbitrary arrests in Bolesa – 15 February 2021 – of 8 people, one person who died of his injuries
3] Arbitrary arrests in Mindua – 15 February 2021 (and following days) – of 5 (or more) persons
4] Information that several women were likely raped in Mindua, Mwingi, Bolesa, Mosite
Increasing violence over the past months
According to community members, since the recent sale of PHC, and the hiring of Mr King Mpika as Security Estate Manager (head of security) of the PHC in Lokutu, the criminalisation of local protest has increased. According to Gilbert Lokombu Limela, President of the Civil Society of Basoko (Lokutu side), King Mpika's security operations also include a detachment of around 50 police officers from Kisangani. Tensions have also been heightened because of the delay in a mediation process that was promised to the communities by the DEG-FMO-Proparco complaint mechanism over 2 years ago. 
Mr King Mpika (who according to some sources is related to the new PHC owner Kalaa Mpinga) is said to have made death threats towards two of the detainees arrested on 13 February, before leaving Lokutu: Mr Christian Litikela and Chimita Alela. 
He is said to have given the orders that led to the acts of repression and recent arrests. 
Circumstances of the arrests
According to local sources, the arrests at Mwingi were carried out by local police, at the request of PHC security. The security guards led or participated in the arrests.
In Mwinigi, three members of RIAO-DRC in Lokutu were arrested under a false pretext of inciting revolt, taking photos of the protest and providing interviews to journalists in which they explained the context of the Lokutu protests. Similar charges were made against the community leader who was arrested at the same time. Three of those arrested were badly beaten. One was released after a payment of 300,000 FC (US$150), while the three others were transferred to Yangambi prison
In the vicinity of Bolesa, the PHC security guards arrested 4 women and 4 men, which they then took to the police station in Lokutu. Several of those arrested were assaulted before they arrived at the police station. Some arrived handcuffed/tied. The eight villagers were taken to the holding cell in Lokutu and the four women were later released. Three of the men were transferred to Yangambi prison. One of those arrested and assaulted, Mr. Blaise Mokwe, was transfered to a hospital which could not care for him and he died on 21 February of his injuries at his home.
There are also reports that a young teacher from Mwingi, who is a local member of RIAO-RDC, was assaulted by PHC security guards while he was travelling to central Lokutu, without any reason given. According to local sources, the arrest was extremely violent. The teacher was eventually tortured, handcuffed and taken to Lokutu prison. He is reported to be in critical condition. 
Following the violent incidents in the vicinity of Lokutu after the demonstration, further assaults and arrests were reportedly made in other villages, including Mindua. The majority of those arrested in Mindua were apprehended by PHC security guards on suspicion of stealing palm nuts and taken by the security guards to Lokutu police station. Sources indicate that five men were arrested, as well as one woman who is five months pregnant. The woman was allegedly beaten and raped and is now at risk of losing her baby. She is reported to have been transferred from the local police station in Lokutu to Yangambi prison. 
Local sources also state that there were several cases of sexual assault and rape committed against women by PHC security guards in Mindua, Mwingi, Bolesa and Mosite during this wave of violence. 
Killing of Blaise Mokwe
Blaise Mokwe, a 33-year old man engaged to be married, from the village of Yakote, was arrested on 15 February at his home near his village of Yakote. That day, he started his day by sweeping his yard in front of his house. As his broom was broken, he went to the plantation to look for a stick to repair his broom. 
That's when he was arrested by the security guards. They accused Mr. Mokwe of "stealing palm nuts belonging to the plantation" and forced Mr. Mokwe to take them to his house to search the premises and find the "nuts". Following the search, they found no nuts or oil at Mr Mokwe's home. However, the security guards decided to take Mr Mokwe to the Lokutu police station. Considering this arbitrary arrest and in the absence of any offence, Mr Mokwe refused to follow them. The security guards then tried to take him by force to the Lokutu police station.
When Mr. Mokwe resisted, the security guards beat and kicked him and then took him by force, handcuffed, to the Lokutu police station (25 km away).  
On arrival at the police station, the commander reportedly demanded that Mr Mokwe be immediately taken to hospital as his health was in a critical state. Unfortunately, at the hospital, due to a lack of medication, Mr Mokwe was unable to receive the necessary care. He therefore returned to his village in Yakote. He died on February 21, in Yakote/Mosite, of the injuries sustained when beaten by the PHC security guards.
In an act of protest and desperation, Mr Mokwe's family took his body to the Lokutu police station the next day to seek justice. But the Lokutu local police commander refused to allow the body to be taken to the police station because, according to him, the security guards of PHC were responsible for Mr Mokwe's death, not the police. The body was then taken to the PHC workers' camp in Lokutu, where it remained during the day of February 22nd, in the presence of some relatives. 
PHC made a contribution of 200,000 FC (US$100) to the funeral expenses of Mr Mokwe. Subsequently, PHC requested that an acknowledgement of debt be signed by Mr Mokwe's elder brother, committing him to reimburse PHC for the payment of the advance to cover funeral expenses. Subsequently, sources confirm that representatives of PHC acknowledged that Mr Mokwe's death was linked to the assault and beatings he suffered at the hands of its security guards. 
This is understood to be what motivated the company to promise the family an additional indemnity of 500,000 FC (US$300) to cover the funeral expenses.
Mr. Mokwe was buried on 22 February at the end of the day.
30 civil society organizations have written to the World Bank Group demanding to publicly disclose the Africa Energy Approach paper.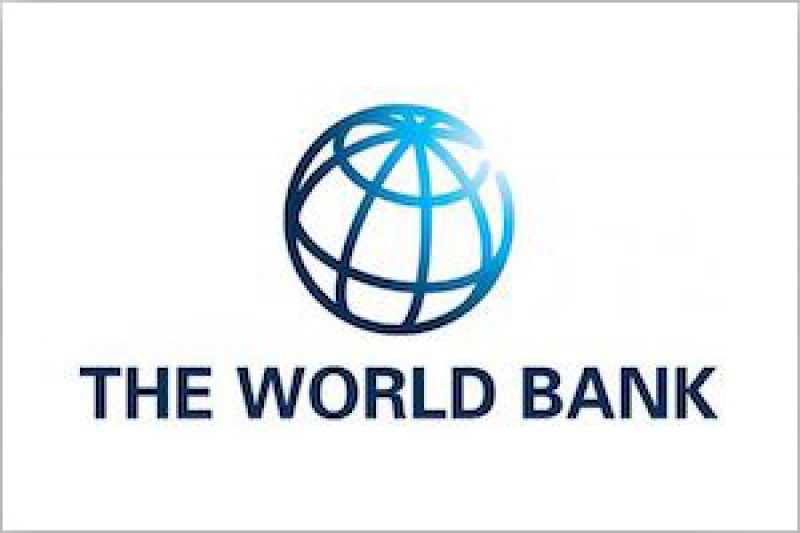 By witnessradio.org Team
30 civil society organizations from around the world are demanding that the World Bank must cease investing in fossil fuels, scale up investments in decentralized renewable energy, and expand finance for energy access, including clean cooking, while embedding these efforts in a much wider 'just recovery' from the COVID-19 crisis, that can serve as a bridge to a 'just transition' to a zero-carbon future, more generally.
The demands are being raised in an ongoing discussions around World Bank's engagement in the African continent to support borrowing countries energy sector represents a huge opportunity for the Bank to walk the talk when it comes to climate solutions and increasing the Bank's share in supporting energy access projects, given the existing global financing gap for energy access, particularly for the least cost solutions needed by people living in energy poverty (SEforALL, 2019).
African Civil Society Refuses To Engage With UNFSS Without Radical Change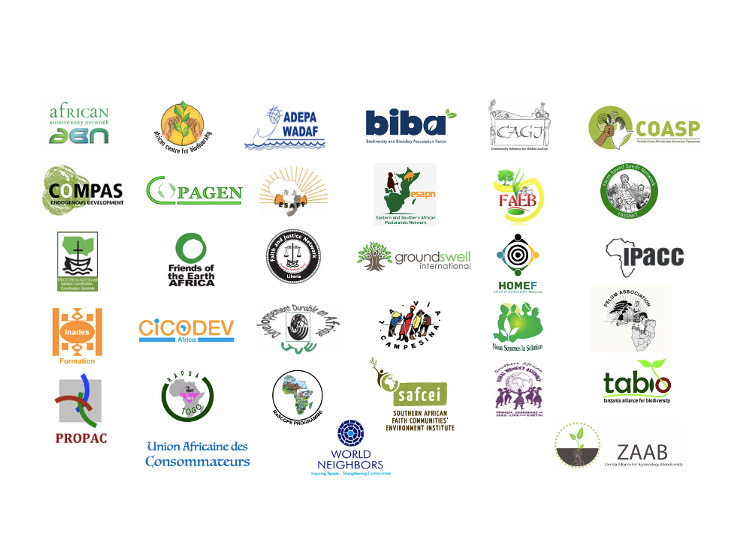 Members of the Alliance for Food Sovereignty in Africa 
Dr. Agnes Kalibata 
Special Envoy of the UN Secretary-General for the 2021 UN Food Systems Summit 
Prerequisites for engaging with the UNFSS 
Dear Dr. Kalibata 
AFSA acknowledges your invitation of 17th September 2020 to be part of the champions group and represent African civil society. At first, we declined, for reasons set out below. However, after careful deliberation, we, the undersigned 36 network members of AFSA, came to a consensus that we would be prepared to engage with the United Nations Food Systems Summit (UNFSS), scheduled to take place in September 2021 in New York, USA, dependant upon the UNFSS agreeing to the conditions set out below. 
AFSA initially welcomed the UN Secretary-General's announcement to convene the world Food Systems Summit in 2021 with profound hope and enormous optimism. The food systems transformation agenda is long overdue, and many social movements and civil society actors, in Africa and globally, have been fighting for systemic and structural transformation of food systems, stressing the urgent need for a radical shift from fossil fuel-based industrial agriculture and corporate monopolies of food and agriculture to food sovereignty and agroecology. 
However, our genuine hope for a vibrant, inclusive, and democratic summit on food systems transformation has consistently been eroded. Below, we declare the reasons that pushed AFSA to officially refuse the invitation and set conditions for engaging with the UNFSS summit. 
Industrial agriculture is a key driver of biodiversity loss and a significant contributor to carbon emissions. Further, as COVID-19 illustrates, there are complex interactions among deforestation, reduced biological diversity, ecosystem destruction, and human health and safety, in large part driven by globalised agricultural and food systems. Exposure to existing and emerging pathogens, as ecosystem destruction continues and essential protective barriers provided by nature are breached, are tremendous public health threats. 
The inextricable connections between climate change, deforestation and industrial agriculture – a prime mechanism of agrarian extractivism and extractivist development – drive social and political instability and food insecurity on the continent, which further fuel the systemic, existential crises we face globally. 
Development interventions to date have and continue to reinforce indebtedness, inequalities and social exclusion. They deepen dependency on destructive, short-sighted and short-lived fossil fuel and capital intensive projects, and global agricultural and forest value chains, which all contribute to creating conditions for extreme vulnerability to shocks, including but not limited to the COVID-19 pandemic. 
Rapid and unplanned urbanisation, with the consequent shift in the labour force from largely food producing to non-food producing jobs, and a rising African middle class, is affecting rural land use and changing our food systems. The rapid erosion of Africa's culture coincides with the degradation of our soils, which is becoming a major issue affecting the livelihoods of many, while the growing retail/supermarket sector is also destroying and displacing local food systems and local markets. 
Yet Africa remains essentially a continent of smallholder food producers. Solutions will only work for Africa if they work for millions of farmers, pastoralists, fisherfolks, indigenous communities, custodians of nature, and women and youth in the food system. Hence, how Africa will feed itself in a situation of rapidly changing, catastrophic and chaotic climate change, and in a manner that heals nature and cools the planet, is one of our most urgent and pressing survival questions. 
About 20% of Africans – more than 250 million people – go to bed hungry every night. At the same time, industrial ultra-processed foods and sweetened beverages have penetrated African markets – many of which are high in sugar, salt, saturated fats and preservatives, thus contributing to the spread of non-communicable diseases, such as diabetes, cardiovascular diseases, and cancer. This has also contributed to a major rise in excess weight and obesity, with the rate of overweight children under five having increased by nearly 24% since 2000. And affected populations are more vulnerable to COVID-19. 
Fiscal policies and regulations, such as sugar taxes, labelling of unhealthy foods, and restricting marketing, often face strong opposition from large food companies that dominate markets. Thus, Africa faces a triple burden of hunger, malnutrition, and obesity and ill health from poor quality food. Clearly, the people of Africa are facing a multitude of intertwined crises linked to changes in our farming and food systems. 
Even so, Africa has much to offer its citizens and to the world. With appropriate redirection of policies and investment, the wealth of our seed, agrobiodiversity, land, vibrant cultures and nature can contribute to solving the food crisis affecting so many of our people. 
The answer lies in our collective ability to effect holistic and systemic transformation of our food systems. Such a fundamental transformation would tackle the climate crisis, lift millions out of chronic poverty, help our people defeat hunger, nurture a healthy life for all, revive vibrant cultural practices, address structural inequality, and rejuvenate the biosphere. 
We are deeply concerned that the current rushed, corporate-controlled, unaccountable and opaque process for this UNFSS will not lead towards the transformation we envision of revitalised, sustainable and healthy food systems. A summit geared towards repeating the agri-business-as-usual model to solve the food and climate crisis cannot deliver on this visionary future. 
The current multi-stakeholder approach and structure of the UNFSS give major influence over our food system to a few corporations and philanthro-capitalists, many of whom are part of the problems. We are profoundly concerned that the UNFSS will be used as a conduit to echo the business-as-usual, quick-technofix policy prescriptions of the agribusiness agendas. 
The science is clear. Climate chaos, land-use change and erosion, and alarming biodiversity loss are the biggest existential threats to all life forms on Earth. The industrial food chain and corporate concentration around food and agriculture is the primary driver of many of the underpinning crises that humanity faces today – including health, hunger, malnutrition, deforestation, land degradation, loss of soil fertility, structural injustice and inequality. 
Nothing short of a fundamental rethink of our food systems will reverse the trajectory of chaos and crises. Incremental change is no longer enough. "Agriculture at the Crossroads," the 2009 report by the International Assessment of Agricultural Knowledge, Science and Technology for Development (IAASTD), clearly indicated more than ten years ago that the future of the food supply lies in the hands of smallholder and peasant farmers. That report is still relevant today, with several of its authors having issued a follow-up earlier this year titled "Transformation of Our Food Systems: The Making of A Paradigm Shift". 
Agroecology is an alternative bottom-up paradigm that fundamentally addresses the nexus of environmental, economic, cultural and social regeneration in agriculture and overall food systems. AFSA, as part of the food sovereignty movement, stands in solidarity with peasant/family farmers, indigenous peoples, pastoralists, fishers and other citizens to exercise their fundamental human right to determine their own food and agricultural policies. AFSA stands in solidarity with thousands of farmers' organisations and social movements worldwide to push for this holistic vision of a transition to agroecology and food sovereignty. We believe embracing agroecology is the right path to restore the damage done to our nature and cultures, cool the planet, feed the increasing population, fix the nutrition and health crisis, and build fair and just economies and thriving livelihoods. We demand that agroecology is put at the centre of the recommendations coming from the FSS. 
The current UNFSS process gives little space to traditional ecological knowledge, the celebration of traditional diets and cuisine, and the social sciences, which are critical for the future of our food system. Indigenous and local community Africans have experience and knowledge relevant to the current and future food system. Any process or outcome that does not recognise this is an affront to millions of African food producers and consumers. 
Therefore, AFSA must see the following conditions fulfilled before we engage with the summit: 
– A transition to agroecology should be central to any outcomes of the UNFSS, based on the 13 principles of agroecology outlined in the High Level Panel of Experts for Food Security and Nutrition (HLPE) report on agroecology and how these can effectively be implemented globally in support of the Sustainable Development Goals. 
– The formal FSS process should establish an additional track to focus on the transformation of corporate food systems to food sovereignty, as also demanded by the Civil Society and Indigenous Peoples' Mechanism (CSM) of the Committee on World Food Security. 
– The CSM should be given the mandate to lead proceedings of this 6th Action Track, in collaboration with relevant UN bodies and governments, and attention must be given to cross-cutting implications in the other Action Tracks. 
– The traditional knowledge and practices of people, inclusive of Indigenous peoples, must be included in all processes and outcomes in a clear and demonstrable way. 
– The AFSA strongly believes that the ideal and legitimate forum to host and facilitate debates as significant, complex, and crucial as rethinking global food systems should remain under the United Nation's Committee for World Food Security (CFS). 
– The FSS must commit to turning over any recommendations or outcomes to the CFS for implementation, and commit resources to strengthening the CFS and reversing its capture by corporate interests and governments. 
Sincerely, 
Original Source: afsafrica.org
Forests Are Not Empty Spaces: To Save the Climate, Recognize Our Land Rights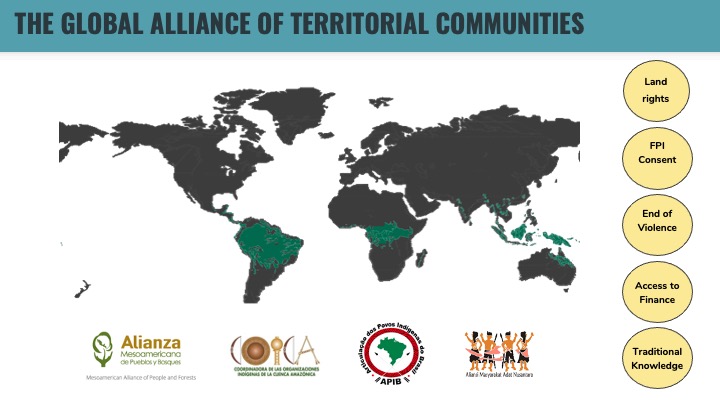 MESSAGE FROM AN INDIGENOUS LEADER AT THE BIDEN CLIMATE SUMMIT
*** Global indigenous leadership welcomes the commitment to finance the protection of tropical forests to save the climate, while pointing out that success depends on recognition of the rights of indigenous peoples and local communities to their lands ***
WASHINGTON DC / ONLINE (22 April 2021).— The Global Alliance of Territorial Communities, a coalition of organizations representing indigenous and local communities from Brazil, Indonesia and  the nations of the Amazon and Mesoamerica, called for the recognition of the ancestral and traditional peoples' lands, during the Leaders Summit on Climate organized by President Biden.
"It is not a request for charity, nor even for justice: It is our right and also what western science and the data indicate as the only possible course of action to confront this climate crisis," said Tuntiak Katan, coordinator of the Global Alliance of Territorial Communities and Indigenous leader of the Shuar people of Ecuador. Katan was invited to speak at the Summit session on "Nature-Based Solutions" session, led by the US Secretary of the Interior, Debra Ann Haaland.
The time for truth has arrived, Katan said, addressing a global audience gathered for the Summit: "Just as our elders traveled to Geneva in 1923 to claim their right to live according to their own laws, on their own lands, and according to their own cosmovision, we come again before all nations, with open hearts, looking ahead to the future together and building a new era, all of us, the protagonists in implementing the solutions that will determine the future of humanity."
On behalf of the Global Alliance of Territorial Communities, Katan welcomed the Biden Administration's announcements of funding for climate action and the launch of an initiative on Lowering Emission through Accelerated Forest Finance (LEAF). He also invited governments and international institutions to, "learn from past mistakes and avoid depending on the same financing model that has not resulted in the expected outcomes in climate impacts and solutions", in clear reference to the REDD + initiative, and its single minded focus on the capture of carbon.
Katan noted that the findings of a recent study had reported that Indigenous and other local communities receive less than 1% of climate finance for mitigation and adaptation to climate change.
"That must change, if we really want to avoid climate change," Katan said. "The forests that are the focus of this Climate Summit are not immense empty spaces:
"We, indigenous peoples and local communities, occupy those forests, and we are ready to contribute our forests to one of the most important challenges of our era: the restoration of the Earth", he said. "However, real restoration can only happen with legal recognition of our rights to our territories. Without this, it will not be possible to ensure the integrity of ecosystems or climate security."
In the 18 countries that are home to the organizations represented by the Global Alliance of Territorial Communities, Indigenous Peoples and local communities occupy more than 840 million hectares of land, the equivalent of 80% of the area of the United States.
"Out of those 840 million hectares, at least 400 million hectares have no recognized legal rights (1), Katan said. "We need those land rights to be recognized as the first step to ensure the integrity of ecosystems and to live according to our own rights.".
He urged the US president and other heads of state to consider investing in the $5 cost per hectare of titling the forests claimed by Indigenous Peoples and local communities in tropical forest countries. Funding this proven climate solution, as calculated by experts at the Rights and Resources Initiative and other research groups, would channel at least US$2 billion dollars into securing land rights.
"Numerous scientific studies(link is external) show the key role of indigenous peoples and local communities in protecting forests and other key ecosystems," Katan said. "Where our rights are recognized there is less deforestation and degradation."
At a time, "full of darkness, it is also time to wake up", Katan said. "This is a time when Western science and our traditional wisdom are building bridges."
For this reason, Katan said,  the Indigenous leaders of the organizations represented by the  Global Alliance disagree with the concept of "Solutions Based on Nature." Instead they call on the international community to speak and act with a focus on "Nature and Community-based solutions".
"The communities are already implementing initiatives for the sustainable management of forests," Katan said. "We are part of the solution to climate change, and that is why recognition of our rights to land is the first step in any serious effort to tackle the climate crisis."
He ended with the following message: "Mr. Biden, you have the opportunity and the historic responsibility, along with other world leaders, to make the right political decisions to stop the climate crisis."
For more information: Lucas Tolentino, +55 61 9254-0990 (WhatsApp), lucas.tolentino@alianzaglobal.me(link sends e-mail)
Notes to editor: 
(1) Recent research shows that in the last 10 years, less than 1% of cooperation funds against climate change have been allocated to forest management and recognition of rights (RRI and Woodwell Climate Research Center: preliminary evidence from a study of forthcoming publication).
ABOUT THE GLOBAL ALLIANCE:
The Global Alliance of Territorial Communities represents indigenous peoples and local communities from the Amazon Basin, Brazil, Indonesia and Mesoamerica, grouped in four territorial organizations: the Alliance of Indigenous Peoples of the Archipelago (AMAN), the Mesoamerican Alliance of Peoples and Forests (AMPB), the Articulation of the Indigenous Peoples of Brazil (APIB) and the Coordinator of Indigenous Organizations of the Amazon River Basin (COICA).
Original Source: Landportal.org