African Faith Communities Tell Gates Foundation, "Big Farming is No Solution for Africa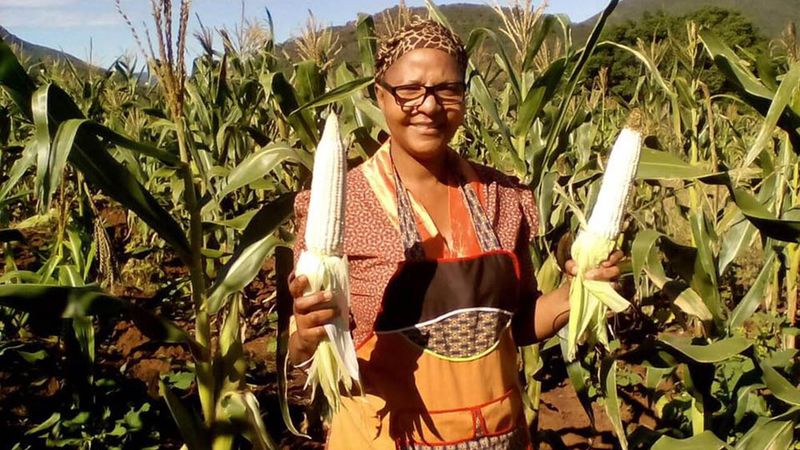 Busisiwe Mgangxela, seed saver and agroecologist from the Eastern Cape
Following the United Nations (UN) Food Systems Pre-Summit in Rome last week – a prequel to the Head of State-level Summit in New York, this September – faith communities from across Africa continue to call attention to the wide range of far-reaching consequences of current industrial agricultural models.
An open letter to the Bill and Melinda Gates Foundation – sent by the Southern African Faith Communities' Institute (SAFCEI) on behalf of faith leaders on 4 June and endorsed by nearly 500 faith leaders across Africa – emphasizes that the current approach to food security, in the face of the intensifying climate crisis, will do more harm than good on the continent.
SAFCEI's Executive Director Francesca de Gasparis says, "In addition to damaging ecosystems, threatening local livelihoods and increasing climate vulnerabilities, monocrop farming ignores and undermines smallholder farmers, whose efforts promote sustainable food production and protect the environment."
"What African farmers need, is support to find communal solutions that increase climate resilience, rather than the top-down profit-driven industrial-scale farming systems proposed. When it comes to the climate, African faith communities are urging the world to think twice before pushing a technical and corporate farming approach," she says.
Two months after sending the letter, and despite extensive coverage of the pre-summit, which saw more than 100 countries discussing ways to transform national food systems to meet sustainable development goals by 2030, faith leaders in Africa have yet to receive a reply or acknowledgement from the Gates Foundation.
According to de Gasparis, what is currently promoting in sub-Saharan Africa is based on a fossil fuel and extractive business model and reduces farmers to nothing more than "food factories", rather than meaningful stakeholders and contributors of the global food system.
Consider the N2Africa project, which started with funding from the Gates Foundation. The project, oriented towards a modernisation agenda, will only benefit a few. And, while soil health and nutritional benefits are used to justify investment in legume commercialisation, the actual baseline measurement for success is production for external markets. As a result, local legume crops and varieties that are within existing seed banks and have been grown for generations in ecosystems are bypassed in favour of imported commercial varieties that are developed for industrial feed and processing markets. This threatens local varieties that African farmers and consumers prefer, impacting the affordability of foods, local nutrition, and cultural cooking practices.
Another insidious aspect of the Gates Foundation's work on the continent is how laws are being altered. The foundation is working to fundamentally restructure seed laws, which protect certified varieties but criminalise non-certified seed. This is particularly problematic for small-scale farmers in Africa, who nourish their families and their communities through seeds that are not certified.
80% of non-certified seeds come from millions of smallholder farmers who recycle and exchange seeds each year, building an "open-source knowledge bank" of seeds that cost little to nothing but have all the nutritional value needed to sustain these communities. In contrast, the approach supported by the Gates Foundation, threatens to replace seed systems diversity and the agro-biodiversity system that is critical for human and ecosystem health and replace it with a privatized, corporate approach that will reduce food systems resilience.
De Gasparis says, "One of the (many) problems with the Gates Foundation approach, where a single cash crop is grown year after year, without rotation and vulnerable to the same pests and disease. This ends up reducing resilience by depleting and destroying natural soil fertility, water resources and our rich biodiversity and genetic capital. Experiences from around the world provide further evidence that industrial mono-cropping will leave African communities worse-off and even more dependent on aid, in the future."
This style of farming which has been pushed by big commercial farming entities in the US and Europe undermines community-spirited traditions of selecting, saving and sharing seed. It ignores indigenous knowledge regarding local food crop diversity and multi-cropping. One of the results of a business approach that centralises control of production systems, is that land and profits end up in the hands of a small elite minority. This not only threatens the agency of most producers in Africa, who are small-scale farmers – those whose farming practices are based on historical and cultural knowledge and understanding of their ecological landscapes – it also reduces production of local nutritious foods and medicines.
"We saw that many of these same issues were at stake during the farmer protests in India and the same issues are valid in Africa. Around the globe, agribusinesses are trying to convince governments and financial institutions that they hold the answer to the world's hunger problems, and that they can resolve these in a sustainable, climate -friendly way. We've seen that movie before and it never works out fairly for the small farmers who remain the life blood of much of Africa and who are indispensable to its future," says de Gasparis.
According to SAFCEI's Climate Justice Coordinator, Gabriel Manyangadze, "We've seen from its initiatives in Africa that the Gates Foundation puts its full faith in technological fixes without seeking to address the vitally-important issues of morality and political economy involved. As such, the Foundation's approach supports a dominance of multinational corporations over African-led food production systems. And in the Gates Foundation's unwillingness to listen – we see a self-confidence bordering on arrogance, exactly the kind of 'white saviour' mentality of colonialism that Africa neither needs nor wants."
"People of faith, with reverence to the Almighty and with concern and respect to creation, must stand for agroecology. Faith leaders across Africa are witnessing the negative impact of industrialised farming to the land and in their communities. The data shows that industrialised mono-crop farming practices and food systems do not and will not provide the people of Africa with a nutritious and chemical-free, nor a diverse and culturally-appropriate diet that is affordable," says Manyangadze.
"That is why hundreds of religious leaders from Africa with solidarity from organisations have called on the Gates Foundation to re-think its approach to farming in Africa. We appeal to those who truly want to do good in Africa, to start by listening to the farmers that you claim you want to help. Work with them because they are already developing appropriate solutions for their contexts. There are better ways to become climate resilient, than what you are proposing."
According to SAFCEI, more investment and support must be given to the small-scale farmers around the world who are working to build alternative food systems that are socially just and ecologically sustainable and learn from them. It says it wants to see organisations, like the Gates Foundation, use their influence to ensure that smallholder farmers have ample support. This includes assisting governments to implement holistic, supportive strategies. And rather than giving ownership to multinational corporations, help local communities have a real stake in policy negotiations. This approach also requires a commitment to land reform and gives communities agency and power over their own circumstances for self-determination.
"Our call is for the Gates Foundation (and others) to stop pushing profit-driven industrial agriculture that impose technologies and seeds that are controlled by companies with vested interests, under the guise of a green "revolution". We call on Northern actors to instead move towards sustainable and agro-ecological approaches that work with farmers to achieve climate resilience. Agroecological strategies such as intercropping, the "push-pull" system and integrated pest management that show efficacy in the field and build ecosystem climate resilience. These are already being implemented in both the Americas and Africa and do not further indebt farmers or compromise their health, or that of their environment," says Manyangadze.
"As the faith communities and farmers of Africa, we want regenerative and agroecological approaches that do not destroy biodiversity on the continent and that will provide a just distribution of food for all. Such an approach requires the Foundation and others to look for solutions not only from science, but also in the knowledge, heritage, experience and needs of African farmers," he concludes.
"Religious communities around the globe have no faith in the Gates Foundation's corporate agribusiness approaches which threaten small farmers, degrade soil and water, concentrate ownership by regional and global elites, and reduce everything and everyone – from farmers to soil to seeds to livestock – to soulless commodity. We believe in a bottom-up approach that respects small farmers, protects land from toxic inputs, and strengthens local communities." Rev. Fletcher Harper (U.S.A.), Executive Director, GreenFaith.
Speaking from her experience on the ground, Busisiwe Mgangxela – an agroecological farmer from the Eastern Cape province in South Africa – says, "What I love about agroecology is that it takes care of the soil and environment, and in turn, the people. It looks at ecology, diversity, and sustainability by incorporating the principles of organic farming: care, health, ecology, and fairness. Sustainable agriculture works to conserve our natural resources, while also considering the health of the people.
This style of farming allows us to plant a variety of crops, using organic fertilisers to feed the soil and natural pest control methods, to avoid chemicals damaging our soil and water sources. Agricultural Industrialisation is taking away the nutrients from the soil that produce good crops. What we need to focus on is sustainable production and sustainable consumption, as part of our efforts to mitigate climate change and reduce our footprint on Mother Earth."
Celestine Otieno, a Kenyan permaculture farmer shared some of the challenges facing farmers in Kenya. She says, "Farmers have become wary of programs that promote monoculture and chemical-intensive farming. Farmers have lost control over indigenous seeds and farming systems and are now saying that they are being held hostage on their own farms. The Gates Foundation is pushing to expand industrial agriculture. My question is: is agricultural industrialisation leading to food security or to food slavery?"
Rev Wellington Sibanda says, "The churches in this area that I serve, are mostly in rural communities. They provide a sense of hope for those trying to make a living on the edge of Northern KwaZulu-Natal. Many of them must survive as seasonal workers in the farming areas, and others as subsistence farmers. Our churches are supported by the sweat of these mostly impoverished communities, who are far away from the industrialized markets of the cities."
"Under economic imperialism, almost all the crops and goods that are produced in this region are under the control of multi-national corporations. Immediately after they are harvested or dug from the belly of the Earth, they are exported to regional and overseas markets. This affects the livelihoods, not just of the people from around here, but throughout Southern Africa."
"Agro-ecological farming practices increases sustainable agricultural productivity and the income of smallholder women farmers."
Ange David from GRAIN in Côte d'Ivoire says, "People in Ghana are fighting against policies pushed by institutions like Alliance for a Green Revolution in Africa (AGRA). We can call it agro-colonialism. We need to put pressure on AGRA and the Gates Foundation. They are trying to change government seed policies to benefit corporations."
Anne Maina from BIBA Kenya believes that the future is in agroecology and supporting smallholder farmers to produce food for current and future generations, in the process, taking care of the soil and natural resources.
Maina says, "Seed laws are being changed across Africa, to the detriment of the people. $1 billion has been allocated to Alliance for a Green Revolution in Africa (AGRA), but the impacts are really low. Soil fertility in Africa is going down due to increased fertiliser use and punitive seed laws are marginalising farmers. When we demanded evidence of the positive impacts they claim to come from their approach, they would not give it to us. Till today, we have no solid evidence. It would have been much more productive had we had focused on agroecology. This is why we are pushing for it now."
Neth Daño from ETC Group Philippines says, "This philanthrocapitalism from the likes of the Gates Foundation and others, are enabled by government policies. We are inspired by resistance in Africa because we have seen this technofix approach disempower traditional farmers in Asia and Africa."
Call to Sever Ties with Tanzanian Government Over Latest Human Rights Abuses Against the Maasai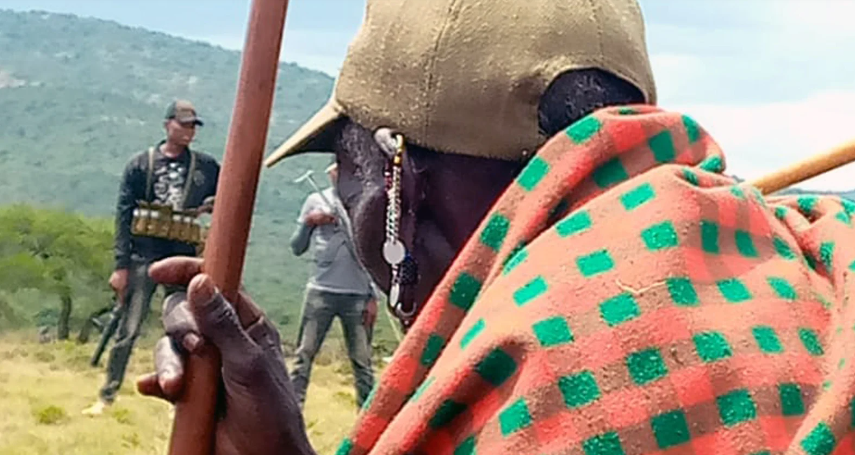 Open Letter from the Oakland Institute and Survival International to UNESCO WHC & IUCN
To: Lazare Eloundou Assomo, Director UNESCO World Heritage
CC: Audrey Azoulay, UNESCO Director General
Tim Badman, Director, IUCN World Heritage Program
Muhammad Juma, Chief of Africa Unit, UNESCO World Heritage
ICOMOS Secretariat
Subject: Call to Sever Ties with Tanzanian Government Over Latest Human Rights Abuses Against the Maasai
Dear Director Lazare Eloundou Assomo,
We are writing in light of the latest violence unleashed on the Maasai communities living in the Loliondo division of Ngorongoro district by the Tanzanian security forces. On June 8, 2022, the Tanzanian government initiated the demarcation of 1,500 km2 of land that it intends to turn into a game reserve, which would trigger mass evictions of Maasai living in legally registered villages within Loliondo. This action has led to widespread violence against the Maasai by security forces, which has left at least 31 people wounded by live ammunition and other injuries while one police officer was allegedly killed by an arrow. A total of twenty-three citizens (including 9 ward councilors) have been arraigned before the Resident Magistrate's Court of Arusha and charged with the murder of the policeman.
Injured Maasai, including high numbers of women and children, have fled to Kenya to seek medical treatment and the government continues to crack down on those who are attempting to share information regarding the violence. Despite this resistance from local communities living on this land, Prime Minister Majaliwa announced the demarcation exercise had been completed.
This latest travesty is a continuation of past efforts to evict Maasai from their ancestral lands in Loliondo for safari tourism and trophy hunting. The United Arab Emirates (UAE)-based Otterlo Business Company (OBC) — which runs hunting excursions for the country's royal family and their guests — will reportedly control commercial hunting in the area despite the company's past involvement in several violent evictions of the Maasai, including in 2017, burning of homes, and the killing of thousands of rare animals in the area.
There has been extensive condemnation of this violence and forced evictions of the Maasai by numerous organizations and coalitions. On June 13, 2022, the African Commission on Human and Peoples' Rights strongly condemned(link is external) the violence and urged the government to halt the eviction and open an independent investigation. On June 14, the United Nations Permanent Forum on Indigenous Issues expressed(link is external) "its profound concern" over the ongoing evictions" and called "on the government of Tanzania to comply with the provisions recognized in the UN Declaration on the Rights of Indigenous Peoples, and other relevant international human rights instruments, and ensure the right of the Maasai to participate in decision-making, considering that their land in Loliondo for safari tourism, trophy hunting and "conservation" will affect their lives and territory."
On June 15, nine United Nations Special Rapporteurs called(link is external) on the Tanzanian government to "immediately halt plans for relocation of the people living in Loliondo and the Ngorongoro Conservation Area and begin consultations with the Maasai Indigenous Peoples, including direct contact with the Ngorongoro Pastoral Council, to jointly define current challenges to environmental conservation and best avenues to resolve them, while maintaining a human rights-based approach to conservation." Finally, on June 19, IUCN issued a statement(link is external) on the human rights violations in Loliondo, sharing that it was "deeply concerned."
Given these developments are occurring alongside the threat of eviction faced by tens of thousands of Indigenous residents of the Ngorongoro Conservation Area, the government's shocking display of violence against its own citizens and patently false denial of responsibility cannot be ignored. We have previously written to your office warning of plans to evict Maasai from the NCA and the inadequacy of relocation sites. These latest rights violations in Loliondo demonstrate that the government does not hesitate to resort to violence, in violation of its national and international obligations, towards the realization of its plans.
The government's blatant disregard for Indigenous lives and international human rights law calls for immediate and decisive action from the UNESCO WHC and IUCN. Continued inaction on your part makes you complicit. The UNESCO WHC has failed to ensure respect for the rights of Indigenous residents. Therefore, Ngorongoro should be delisted as a World Heritage Site and all ties between the UNESCO WHC and IUCN with the government should be immediately severed.
Sincerely,
Anuradha Mittal
Executive Director
The Oakland Institute
Fiore Longo
Director, France & Spain
Survival International
Unrecognised wealth of customary land.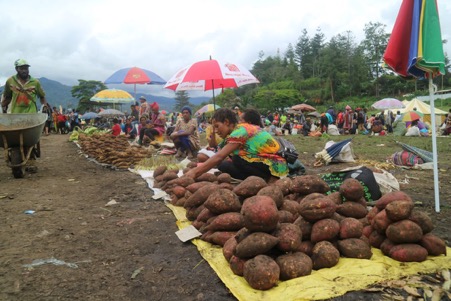 Papua New Guinea's Constitution is unique as it gives the people rights to be custodians over their land, 95% of which is still under customary control.  For thousands of years, over 800 cultures have allowed our land to sustain every generation till the idea of registering customary land was introduced from outside our shores and clouded the real value and importance of that land.
Foreign investors and donor governments have influenced government and policy think tanks to orchestrate the mainstream mindset of most Papua New Guineans to falsely believe that registering land will relieve poverty and unlock development constraints.
This mindset has crucified customary land by opening a door to different land-grabbing schemes that poorly benefit our society.
From Special Agriculture Business Leases to Incorporated Land Groups created to facilitate logging and mineral extraction and now special economic zones, all these schemes critically ignore the real values of customary land.
The SABL scheme disposed community rights to 5 million hectares of customary land.  Of the 15 million hectares of customary land designated for agricultural purposes, 8 million have been taken by logging. Now, huge land portions are being designated for SEZ schemes.
The government keeps on coming up with policies and new ideas aimed at 'unlocking' customary land under the pretense they will improve the economy but have any of these schemes benefited the custodians of land?
Widespread human rights abuses have been reported by both international and national human rights observers on land and forest across PNG, but little is done because these land grab schemes are legally endorsed.
When will be the time when policies and ideas are centered on helping the population in rural areas to utilize their land for themselves and not hand it over to foreigners to exploit for their own profit?
Why should the people register land in return for false promises of money and improved infrastructure when they can be upskilled to utilize their land to increase their incomes in a sustainable and long-lasting manner? Why can't the government and policymakers create policies that utilize the rural population to untap the huge potential of their land?
The way forward to improve the lives of people in PNG is NOT to alienate their rights to land and destroy the way of life that is attached to this relationship. At the heart of development and economic policy must be the needs and self-determination of local people. Any development policies that see dispossession of land as a necessary and unavoidable process are fundamentally opposed to the rights of the people and the preservation of our unique culture.
Studies into rural livelihoods over the past decade show that customary land is highly productive, but its output and impact is neither measured properly nor publicly recognized.
Papua New Guinea's real mainstream economy is small-scale farming as  ACTNOW documented in 2017:
"If a rural family had to buy at regional markets what comes from their gardens, they would have to spend up to 20,000 Kina per year. That gives us an idea of the real value of subsistence output (what we produce to feed ourselves). The value of domestic informal or market trading, including garden produce, is almost the same again, another K20,000 a year.
One million rural families could therefore be producing K40 billion in real value per year. That dwarves the annual combined output of gold (1.7bn), gas (1.69bn), petroleum (1.63bn), copper (0.75bn), logging (0.8bn), and palm oil (0.47bn) which totals just K7 billion."
Another example of this untapped value can be seen in the recent comments by the Fresh Produce Development Agency on the value of the horticulture sector. It is already a K3 billion a year industry but is trapped by a lack of skills, training, government support, and clear guidelines to untap this green mine.
Customary land is the most valuable asset available to most Papua New Guineans but its role and importance is often misunderstood or misrepresented, particularly by outsiders.
All of the government's so-called 'land reforms' and development policies will continue to amount to nothing while they fail to recognize and support the potential of the custodians of the land to protect it and use it for maximum gain.
Having a government that fails to recognize this is a failure to the people.
Original Source: farmlandgrab.org
La Via Campesina calls on States to exit the WTO and to create a new framework based on food sovereignty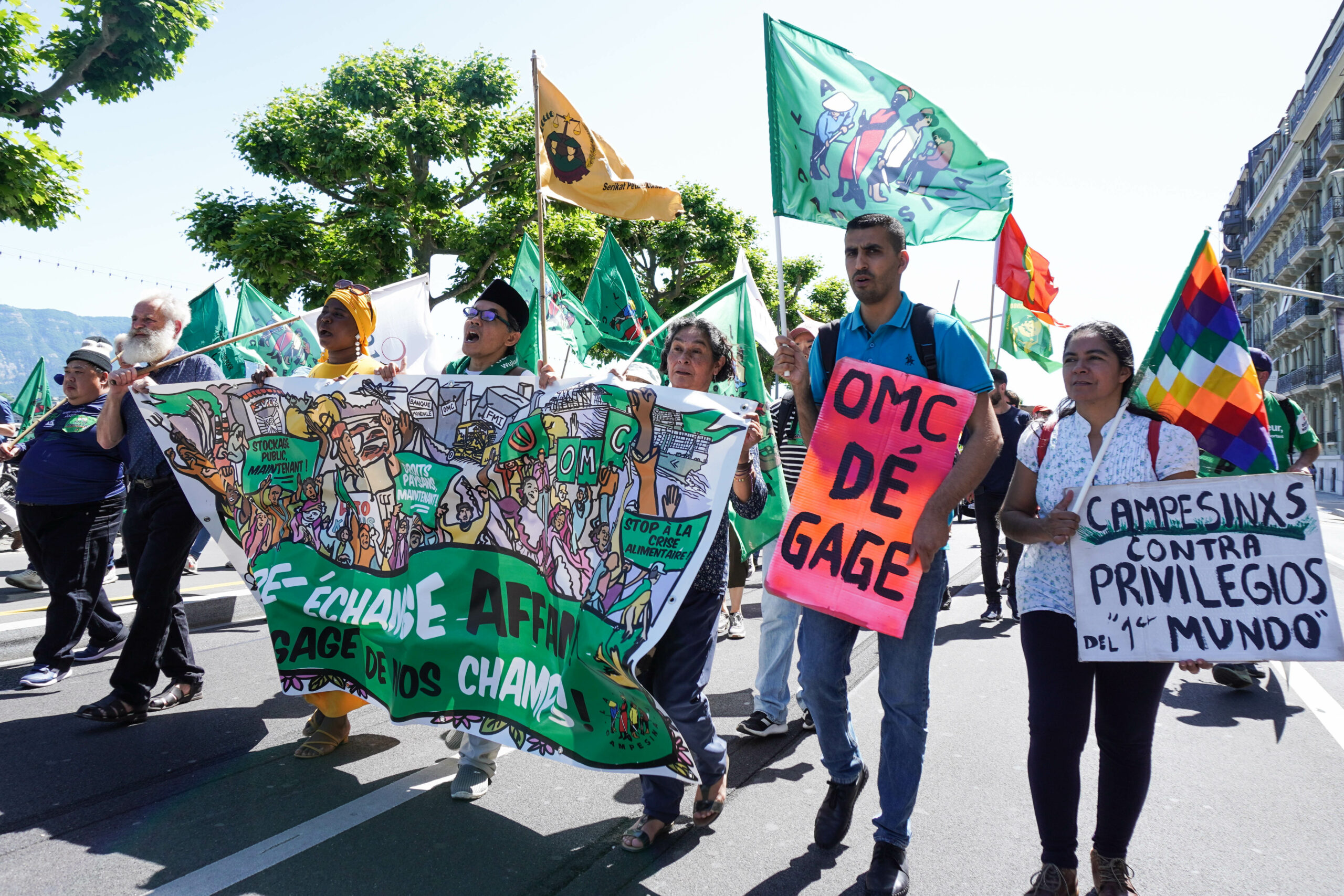 La Via Campesina, the global peasant movement representing the voices of more than 200 million small-scale peasants from Asia, Africa, Europe and the Americas, has been mobilizing all week against the WTO. The food crisis that is currently hitting the world is further proof that free trade – far from bringing about food security – is making people starve.
The World Trade Organization (WTO) has once again failed to offer a permanent solution on public stockholding for food security purposes. For more than eight years, rich countries have been blocking concrete proposals from African and Asian members of the G33 in this regard.
Jeongyeol Kim, from the Korean Women Peasant's Association and an International Coordination Committee (ICC) member of La Via Campesina, points out that:
"Free Trade Fuels Hunger. After 27 years under the rule of the WTO, this conclusion is clear. It is time to keep agriculture out of all Free Trade Agreements. The pandemic, and the shock and disruptions induced by war have made it clear that we need a local and national food governance system based on people, not agribusinesses. A system that is built on principles of solidarity and cooperation rather than competition, coercion, and geopolitical agendas."
Burry Tunkara, from the Gambian Organization of Small-scale Farmers, Fishermen and Foresters and one of the main youth leaders of La Via Campesina, echoes the same sentiment in this testimony:
"The WTO only defends the rich and their commercial interests. It is a tool of neo-colonialism. It only serves the interests of multinationals to find new markets and cheaper labour. It's time to stop that!"
The socio-economic agenda of the poorest and low-income countries is not a priority for the WTO. The proof: its inability to provide a safeguard mechanism against the "dumping" of rich countries and its approach to fisheries subsidies to the detriment of small-scale fisherfolk. There is no point in trying to reform an institution built to favour the business interests of a handful of multinational corporations.
Perla Álvarez from Paraguay, and member of the Latin American Coordination of La Via Campesina (CLOC) stated that a systemic change is urgent and necessary:
"The global food crisis is our moment of reckoning. There is no place for a 'business as usual' approach here. We are presenting short-term and long-term proposals that can radically shift the way in which trade affects farming communities around the world."
Today, June 15, from Geneva, while the WTO Ministerial Conference has once again betrayed the expectations of the populations that have been most affected by the food crisis, we, La Via Campesina, share our proposals;
La Via Campesina calls on all national governments to rebuild public stocks and to support the creation of food reserves at the community level with local products from agroecological practices. LVC also called on all governments to put in place the anti-dumping legislation necessary to prevent exporters from destroying local markets.
Yudhvir Singh of the Bhartiya Kisan Union, one of the unions that spearheaded the historic mobilization of Indian peasants in 2021, shared his country's experience with public food stocks:
"Peasants need strong public policies, such as minimum prices and public stock, to continue to make a decent living by producing food. The WTO's attacks against our model of market regulation are extremely dangerous. The G33 must continue to resist and build based on the aspirations and hopes of small-scale producers."
La Via Campesina has called for an immediate suspension of all existing WTO rules that prevent countries from developing public food stocks and regulating market and prices. Governments should have the right to use self-selected internal criteria to protect and promote their food sovereignty. Each country should be able to develop its own agricultural and food policy and protect the interests of its peasants, without harming other countries. The use of agricultural products for agro-fuels should be prohibited. La Via Campesina has also called for a halt in speculation.
"Agrarian Reform is necessary to build food sovereignty," added Zainal Arifin Fuat of Serikat Petani Indonesia and member of LVC's International Coordination Committee. "Governments must put an end to grabbing water, seeds and land by transnational corporations and ensure small-scale producers fair rights over common resources."
We, La Via Campesina, insist that within the framework of the pandemic and the global supply crisis, governments should prioritize local markets.
Morgan Ody, peasant in Brittany, France, and general coordinator of La Via Campesina, stated on behalf of the global peasant movement:
"The World Trade Organization is a failed project. Our global peasant movement calls on all States, especially those in the South, to leave the WTO immediately. We must create a new international framework for agriculture and trade based on food sovereignty. Only then can we defend the interests of small-scale food producers."
Source: viacampesina.org