Local communities lost over 60,000 acres of land to grabbers at a time Witness Radio – Uganda was under a suspension.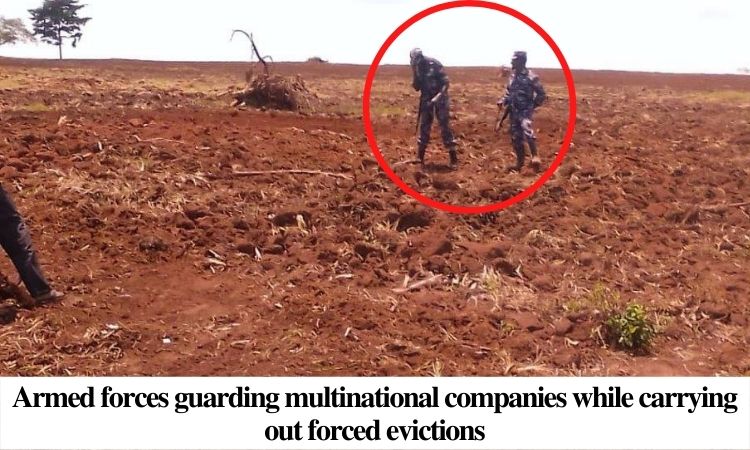 By Witness Radio Team.
In our breaking article published last week, Witness Radio and its contributors based on their data indicated that evictions rose during their suspension. According to the data, over 300,000 people's livelihood was at stake as their land was on the verge of being grabbed. However, the new findings by the team reveal that 50,000 Ugandans were evicted. The evictions left the communities impoverished, homeless, hungry, disintegrated, and lost their livelihood.
Recently Witness Radio's suspension was lifted as the National Bureau of non-government organizations licensed it to operate as a non-governmental organization. However, one of the chilling evictions transpired in Nyamutende and Kikungulu villages around the 3rd of September 2021. Over 20 residents slept in the cold after they were evicted at gunpoint by a multinational, Kiryandongo Sugar Company Limited.
"The soldiers guarding the company come from nowhere, they were tough and did not talk to us but only destroyed everything they found," Mr. Olupot James, one of the evicted residents recounts the ordeal in an interview with Witness Radio.
When the area chairperson Mr. Ochola Charles intervened to stop the evictions, he said he was threatened to be shot at.
"Their manager whom we identified as Peter instructed the soldiers to shoot at me. He argued that I had no reason to stop them from doing what they are doing. But am the area chairperson who has to know what is happening in my community. This is the impunity we are fighting but the companies seem to be protected," Mr. Ochola wondered.
In Katusiime William's community, Kisalanda village in Kiryandongo district, his family is among the many that Agilis Company has recently evicted. Katusime who is protected by law as a bona fide occupant was evicted from the land claimed by the company. His family occupied the said land in 1975.
According to Uganda land law, a person who settled and utilized the land unchallenged by the registered owner for twelve years or more before the coming into force of the 1995 Constitution is protected by law as a bona fide occupant.
In an interview we held with him a fortnight back, he said he was attacked by 18 people consisting of 8 armed policemen, 7 private security guards, and 3 government soldiers, who destroyed his cassava plantations and a son's house. They immediately ordered them to leave their land.
When we contacted Mr. Johny Masagazi, the Corporates Manager for Kiryandongo Sugar and Agilis' Communications Corporates Manager, Mr. Emmanuel Onyango denied evicting residents.
These systematic and forceful evictions have ravaged smallholder farming communities since the suspension. These evictions have continued in Mubende, Kyankwanzi, Kikuube, and Kiryandongo districts.
In the Mubende district, families continue to be displaced and terrorized by Formosa, a tree planting company accusing them of occupying their land illegally.
According to Witness Radio's legal officer, Ms. Sarah Adongo, none of the evictions that happened during their suspension was peaceful and neither followed the required legal eviction guidelines.
"In some communities, land rights defenders were kidnapped and whisked away, tortured purposely to instill fear among the people they lead. The evictors always use extreme force that is un-called-for yet eviction directives clearly state that the evictions shall be carried out in a manner that respects the dignity, right to life, property, and security of all persons affected." She said.
"Persons to be evicted shall be allowed to remove illegal structures and where a person does not comply, the eviction shall be carried out. Evictions should be carried out on weekdays from 8:00 am to 6:00 pm. But cases are seen happening at night without complying with any orders, and particularly without valid legal notices." She added.
Concerning the forceful evictions, over 60,000 acres of land were grabbed by the big shots in government and local or foreign investors. Research by Witness Radio indicates that most of the grabbed land is used for large-scale commercial agriculture, industrialization, or what the government calls development projects which have disrupted people's livelihoods.
Katusiime and Olupot's communities form part of the 50,000 people. Katusiime described the current situation as hell. Mr. Katusime had over 150 acres that were grabbed by the company. "I am useless without my land. I used to provide for my family. We used to eat well". He grieved.
Currently, 90 community land rights defenders in only four districts namely Kyankwanzi, Mubende, Kikuube, and Kiryandongo are facing unscrupulous charges over multiple resistance to land grabbing.
The Head Legal at Witness Radio, Mrs. Bulyerali Joan, one of the lawyers who were arrested while collecting evidence in Kiryandongo district in 2020 to pin multinational land grab in court said police and army are in bed with the investors to cause fear within the oppressed communities by arresting and charging them.
She noted that the Kiryandongo district is one of the areas where the criminal justice system has been used to kidnap, torture, and arrest land rights defenders, and the main perpetrator is the Uganda Police Force which tortures eviction victims, arbitrarily arrests and dumps them in police cells only to be falsely charged with abusive criminal charges. She added that at the time of the organization's suspension, the defenders could not be represented in court or while in police cells.
Our attempts to speak to the Uganda Police Force's spokesperson Fred Enanga on his known contact for comment on the increased arrests were futile since our repeated calls were neither received nor returned by press time.
Police harassment: Six land rights defenders from Kawaala have been summoned for interrogation.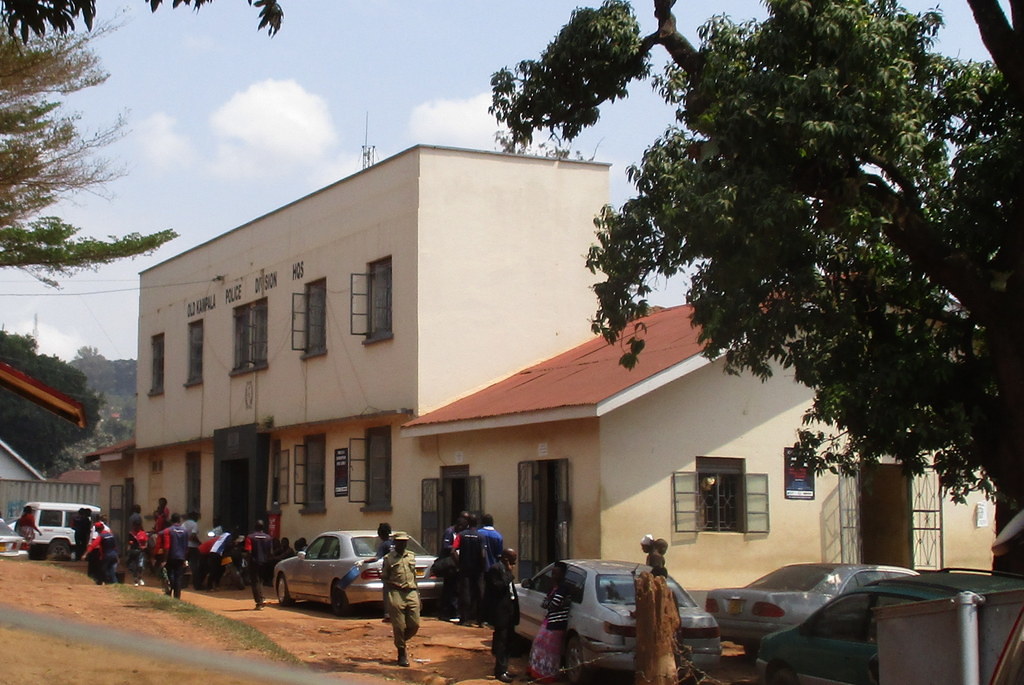 A photo of old Kampala police station where defenders are expected to report tomorrow. 
By Witness Radio – Uganda team
As forced evictions and land giveaways to investors accelerate in Uganda, police continue to be deployed to criminalize the work of community land and environmental rights defenders supporting communities to push back illegal evictions.
For many years ago, hundreds have been arrested, charged, abducted, and beaten for their work by machete-wielding men, police, and army sidelining with investors or grabbers.
The latest to fall prey is a group of six community land rights defenders and a local council vice-chairperson of Kawaala zone II, Lubaga Division, in Kampala district. The group and other defenders have been leading a pushback campaign since 2020 against the multimillion dollars drainage channel being implemented by Kampala Capital City Authority (KCCA) with finances from the World Bank under Kampala Institutional and Infrastructure Development Project (KIIDP-2)
This project first impacted Kawaala Zone II around 2014, when a channel diversion was constructed. The current planned expansion will widen that channel and require forced evictions across an area at least 70 meters wide and 2.5 km long.
The group must appear at the Old Kampala Regional Police headquarters criminal investigations directorate tomorrow, 29th/06/2022 before the Deputy Assistant Inspector of Police (D/AIP) Domara Patrick at 9: 00 AM local time.
The defenders summoned include; Kasozi Paul, Busobolwa Adam, Kabugo Micheal, Serugo Charles, Ssemanda David, Sserukwaya David, and vice-chairman of Kawaala zone II Mr. Patrick Kato Lubwama.
According to the police summons, a copy obtained by Witness Radio – Uganda does not mention the charge nor state the complainant (s).
The chairman of the affected group of people Mr. Kasozi Paul believes these are retaliation for their strong resistance to land grabs being spearheaded by KCCA to construct a drainage channel.
"We have always been targeted by KCCA and other fellow opportunists that we are sabotaging the drainage construction which is not true. We refused to give away our land without being compensated. We believe this is the reason for the summons. We shall go and meet the police tomorrow," Kasozi stated.
When Witness Radio contacted Deputy Assistant Inspector of Police (D/AIP) Domara Patrick who signed those summons declined to share details of the charges instead he invited the Witness Radio team to visit his bosses.
Advocates criticize AfDB for excluding CSOs and communities from participating in the Bank's policy review process.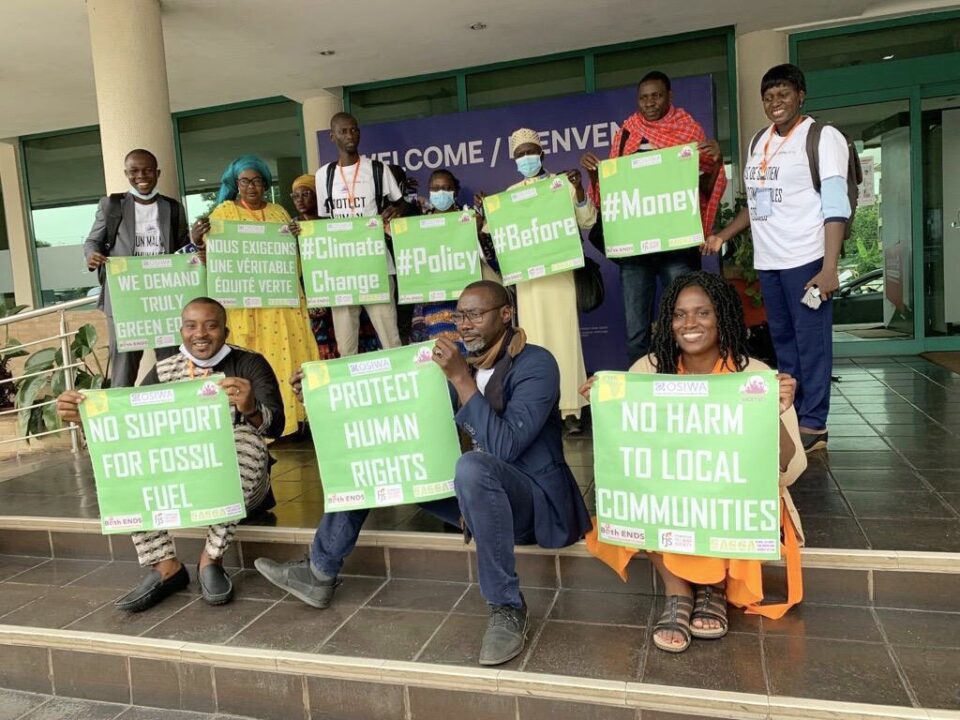 Some of the activists staging a demo in Accra, Ghana
By Witness Radio Team
Witness Radio Uganda joins other civil society organizations across Africa and beyond to criticize the bank's decision to exclude CSOs and communities from participating in the recently concluded African Development Bank (AfDB) 2022 annual meeting in Accra. The groups also called upon the bank to stop funding projects that exacerbate climate change and human rights violations. When member states signed an agreement on August 14, 1963, that consequently led to the establishment of the Bank, many touted it as one of the long-lasting solutions to African problems, however, that hope has dwindled.
The annual meetings held from the 23rd to 27th of May in Accra, Ghana presented an opportunity for the Bank to redeem itself from sustainable development mediocrity, and convince and commit to the world that it was willing to be metamorphosized from a sustainable development jester into a people-centered bank, instead, the AfDB opted to bury its head in the sand.
Key on its agenda; is the role the bank can play in the just energy transition and achieving climate resilience in Africa. However, communities most affected by climate change, and civil society groups supporting them were excluded. It was restricted to a clique of Governors, Senators, Bank Colleagues, investors, presidents, and other cherry-picked participants that were invited to discuss pressing issues affecting mankind.
As expected, the pertinent issues affecting the poor African communities, including those resulting from the adverse impacts of projects financed by AfDB, that is, the disintegration of families, lost livelihoods, and the continued affront to dignity was sacrificed at the altar of painting a Rosy picture about the Banks "gains and projections."
In Uganda, the downtrodden have paid the biggest price for AfDB's irresponsible banking. The Paten clan in the Pakwach district has experienced and continues to experience gross human rights violations arising from the Wadelai irrigation scheme implementation funded by the AfDB.
According to the communities, the project forcefully acquired more land for the Wadelai Irrigation Scheme project under The Farm Income Enhancement and Forestry Conservation Project-Phase 2 (FIEFOC-2). This was contrary to the earlier understanding with the community that the project would utilize 365 acres which the community had freely offered for the project. Instead, 365 hectares were forcefully acquired.
Information obtained from the Coalition for Development's website and published on August 10, 2021, indicates, that sixteen members of the Paten Clan, a community in Pakwach District in northern Uganda, were shot at and wounded by local police and army officers for opposing the Wadelai irrigation project implementation.
"…Staff of the construction company in charge of implementing the project, together with representatives of the local authorities and the police, forcefully entered the community. When communities questioned and protested against the trespass, the local police and members of the Uganda People's Defence Force (UPDF) started firing bullets and teargas to disperse them. 16 community members were injured.
After the shooting, the police refused to hand them the forms for documenting the injuries suffered, meaning they were unable to easily access healthcare in government health centers. The day after, UPDF officers arrested and beat up four women, including one pregnant woman, while they were on their way to fetch water…, according to victims.
A community in Kiyindi, Buikwe district was also evicted by the African Development Bank's water project that allegedly aimed at benefiting them and given little compensation in 2020.
The area Councilor, Mr. Amir Kiggundu says the community now grapples with cases of hunger and poverty. "The government said we would benefit a lot if we accepted the project but people were paid as little as 2 million Uganda Shillings (Approximately 540 US Dollars) for their land. This was little money that could not afford to relocate them and buy the land elsewhere in Uganda. As a result, these people are now renting and work hand to mouth. Their children have since dropped out of school" the area Councilor said in an interview with Witness Radio.
Listed as one of the Development Bank's principles, it has fallen short of inclusivity and participation of all stakeholders during the review process of the bank's policies.
"Transparency and participation are among the greatest shortcomings in AfDB's governance, and the 2022 Annual Meetings, unfortunately, demonstrate the failure to prioritize engagement with civil society and communities. We are so concerned that there is no space for civil society in the official program." Aly Marie Sagne, Founder and Executive Director, Lumìere Synergie pour le Développement, Sénégal said.
Apart from including climate change, food security, and energy development on its agenda list, the Bank was equivocal on these issues. The speeches delivered by Dr. Akinwumi Adesina , the bank's President and the ilk were carefully scripted and choreographed to paint a wrong picture, transparency as a key driver of sustainable development was not mentioned.
On food security, Dr. Akinwumi Adesina said there is no need for Africans begging food and that the bank has approved the $1.5 billion plan that will be used to support African countries to produce food rapidly to ensure sustained supply producing 38 million metric tons of food, including wheat, maize, rice, and soybeans.
About the increased climate crisis, Adesina said Africa suffers $7-15 billion per year in losses to climate change, and losses are projected to rise to $40 billion per year by 2030. "Africa has no choice but to adapt to climate change but African Development Bank has doubled its financing for the climate to $25 billion by 2025," he said.
The Bank is also implementing the $20 billion Desert to Power initiative in the Sahel, to build 10,000 megawatts of solar power generation. This will provide electricity via solar for 250 million people and turn the Sahel into the largest solar zone in the world.
Whereas all these strategies mentioned are meant to uplift the project beneficiaries, there is no guarantee to ensure the realization of their commitments.
Witness Radio's Executive director, Mr. Wokulira Ssebaggala added his voice to the 30 participants in 11 countries that held a separate meeting in Accra from 23-25 May to allude to his concerns over the absence of the project beneficiaries excluding their views in critical issues.
"Many development projects have proven harmful including those funded by this Bank. They have had issues with human rights violations and propelled many into excess poverty and hunger. Because the local people are the beneficiaries, their interests should be represented". He spoke.
The AfDB funds hundreds of projects across the continent and it is one of the key economic players in Africa. Through its direct and indirect financing, it supports projects and policies across a wide range of sectors. However, in practice, the Bank is not different from the loan sharks operating in the streets of Kampala.
"Although the AfDB is supposed to serve the interests of African people, it lags behind its peer institutions in terms of transparent and participatory policies and implementation, and it is very difficult for civil society, local communities, indigenous Peoples, and all rights holders to hold the Bank accountable at all stages of its operations," a statement from members of the #Dev4Africa campaign read.
This approach to development has led to negative impacts on communities from AfDB projects, including human rights, labor, and environmental violations. Additionally, it has led to contradictory approaches to challenges like the climate crisis, whereby the AfDB is supporting needed adaptation and mitigation projects on the one hand, and funding climate-harmful fossil fuel projects on the other hand.
"We don't understand why the AfDB put such a risky project in our community." Fatou Samba is a representative of a community whose livelihoods and environment have been affected by the AfDB-financed Sendou coal power project in Senegal said.
As the court starts to hear a case filed against Kiryandongo Sugar Limited, president Museveni offers to compensate forced eviction victims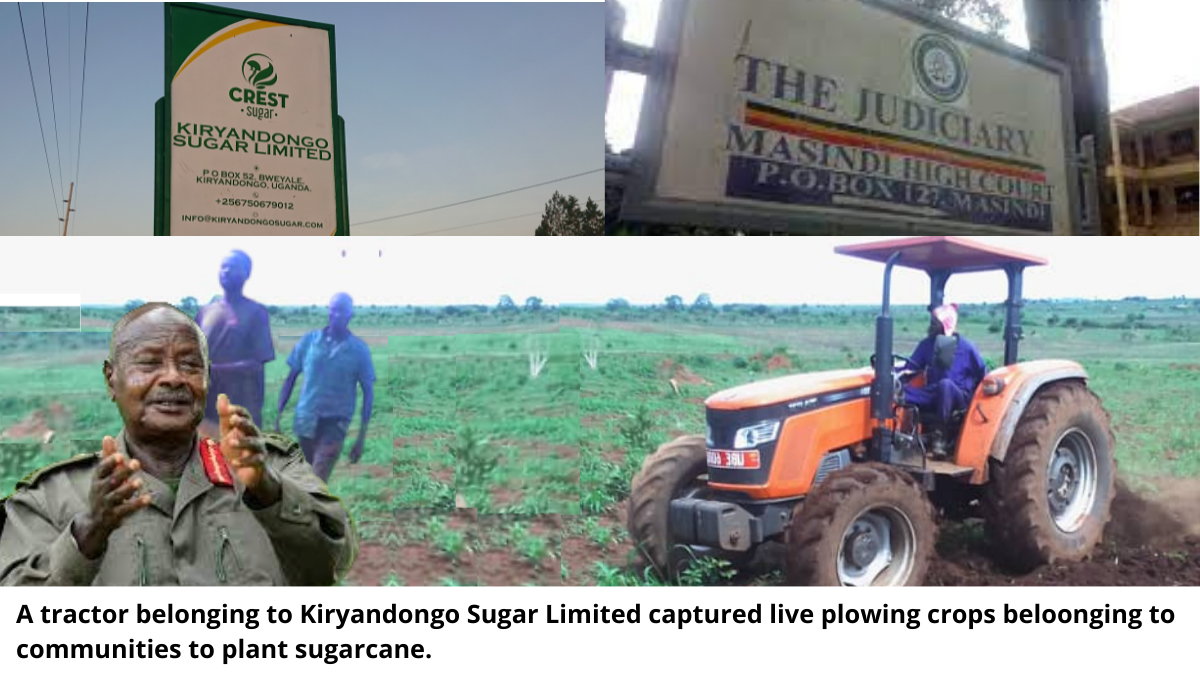 By Witness Radio Team
President Yoweri Museveni pledged to compensate Kiryandongo Sugar Limited forced eviction victims shortly after the Masindi High court fixed a hearing date.
Today, the 30th May 2022, Witness Radio lawyers, representing the victim community are in court as the hearing of the case kicks off.
A victim community that is part of a bigger group of 35,000 people being forced off their land by several multinationals, has suffered unabated violence and gross human rights violations/abuses orchestrated by government soldiers that grab land on behalf of the company.
Since 2017, a year after the company arrived in the area, human rights violations/abuses ranging from abduction, torture, and inhuman and degrading treatment, keeping people in kangaroo detention centers, rape, defilement, demolition of houses, cutting down food plantations for community members, demolishing of schools and private health centers to plowing gardens have been committed against local communities.
Kiryandongo Sugar Limited is one of the many companies owned by the Rai Group of Mauritius. The dynasty owns several other companies in DR Congo, Kenya and Malawi, and Uganda. A dynasty owns companies such as West Kenya Sugar (which owns Kabras Sugar), Timsales Limited, Menengai Oil Refineries, RaiPly, and Webuye Panpaper.
In Uganda, the Rai Group of Mauritius owns Nile Ply limited, Kinyara Sugar Limited, and Masindi Sugar Limited among others and one of its directors is a shareholder of a British Virgin Islands company, which was listed in the Panama Papers database recently.
The same company has fraudulently gotten a license to replace part of Bugoma natural forest with sugarcane plantation.
Mrs. Anna Maria Mukabaryanga, a mother of 5 is one of the hundreds of victims that have tested the wrath of the army. She sustained serious injuries during forced evictions.
"I was sternly beaten by Uganda People's Defense Forces soldiers (UPDF) on my back while I was pregnant. They were very many and eventually got a miscarriage and lost my twins. I did not get enough treatment since I did not have money to cater for the bills. I have visible scars and I cannot afford to do any work due to severe pain. It is hurting that I continue to suffer when the foreign company is reaping big on grabbed land. Whereas I lost everything during the evictions, I was not compensated nor treated. I am deeply suffering up to now." The 32-year-old recounts.
Although Anna Maria and her community have been tormented by forceful and violent evictions, they were blocked to open a case with the area police against the company.
"The police officers attached to Kiryandongo and Kimogola police units refused us to open cases of criminal trespass and destruction of property against the company. When we went to report, we were threatened with arrests, which caused us to abandon our fight for justice," Anna revealed.
The area Woman Member of Parliament, Hon. Hellen Max Kahunde said her office had been receiving several complaints of forced evictions, human rights violations by armed soldiers guarding Kiryandongo Sugar Company, and the little compensation offered to them.
"People were beaten, arrested, tortured, and forcefully evicted by the company on the land that they called home. People have visible scars resulting from the torture by the army on behalf of the investors. Can you imagine even the company went ahead to deduct the already undervalued properties by 40%? It's very unfair," she added.
While commissioning the $60 million equivalent to Uganda Shillings 216 billion, factory last week in Kimogora village in Kiryandongo, President Museveni said that the government will compensate the people despite encroachment on government ranch land.
In his speech quoted by one of Uganda's dailies, the Daily monitor on Monday 16th, Museveni said, "The squatters had encroached on government ranch land and were not bona fide occupants but are our people. Bonafide occupants are those who had stayed on the land before 1983, but these came much later. The NRM government, however, we will compensate them."
In 2020, the Kiryandongo affected victims through their lawyers from Witness Radio lodged a case at Masindi High court against the Kiryandongo Sugar Limited over forced eviction and committing human rights abuses/violations. The victims are seeking compensation and to be returned to their land.
The Masindi resident Judge Hon Jessie Byaruhanga fixed the hearing of Miscellaneous Cause Number 12 of 2020 of Otyaluk Ben Wilson and 8 others vs. Kiryandongo Sugar Company